Garmin 770
Stay connected with a robust, industrial grade in-cab device
The Garmin 770 is an in-cab device that is designed to meet the rigor and unique needs of your business. This dedicated device is the perfect partner for the Teletrac Navman DRIVE app which is enabling 1000's of business to run paperless processes and streamline job management, compliance and communication. 

Garmin 770 Features
Meeting the unique needs of commercial fleets
Voice Activated Routing
Use simple commands to control the Garmin 770 and follow clear visual and audible routing instructions. Navigation also includes live traffic, a 'where I've been' feature to show recent trips and incorporates truck attribute data.
Control the Garmin 770 through simple voice commands
Avoid traffic hot spots with live data 
Routes incorporate truck attribute data
Truck Attributes
Enter a truck profile to set routes that follow road guidelines such as size and weight restrictions, HazMat regulations and time of day restrictions.
Easy entry of vehicle profiles
Regularly updated road restriction database
Digital Workflow
Go paperless with digital workflows that take the strain out of job management, compliance and communication. Garmin 770 is the perfect partner for our DRIVE App, which powers digital transformation.
Create closed loop job management processes, including proof of delivery and signature capture
 Manage ELD and DVIR compliance
Quickly communicate with single drivers or your entire team
Technical Specifications
See why this device is fit for purpose
Physical Dimensions: 7.84" width, 4.79" height, 0.93" depth
Display Size: 6.0" width, 3.5" height
Display Resolution: 1024 x 600 pixels
Weight: 10.935 ounces
Battery: Rechargeable Lithium-Ion
Battery Life: 2+ hours
Industrial Testing: MIL-STD-810G tested*
Mapping Includes: Truck & Bus Routing / Pre-loaded Street Maps / Mapping Updates
Navigation Includes: Lane Assist / Junction Sign Display / Speed Limit Indicator
Bluetooth Calling: Bluetooth calling is enabled in the device
* MIL-STD-810G is a U.S. military standard that certifies military equipment as field-ready with a system of tests that simulate a variety of environmental conditions, including shock, vibration, and more.
Your Success 
Intelligent support every step of the way
Software alone isn't the answer. Leverage our professional services for added training, customer support, and more to ensure you get even more value out of your software.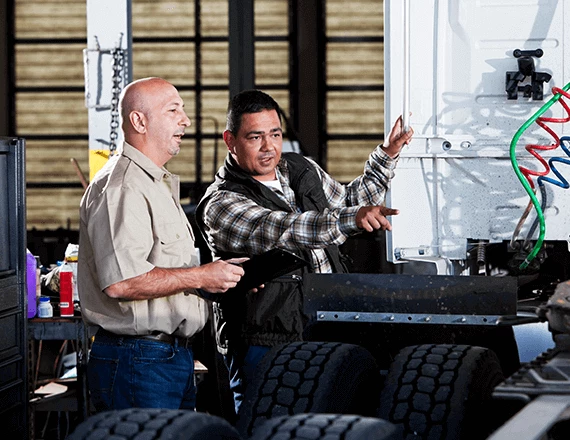 We track our loads quite a bit. We even have several customers that require us to track our vehicles every two hours and provide them with updates. Teletrac makes sure that these 'hot and sensitive' deliveries are on route and on time.
- A.N. Webber
NDOT has recovered three stolen vehicles, worth $45,000 each, using GPS data and automated text message alerts from Teletrac Navman. In all instances, their fleet coordinator received text notifications of vehicle ignition after midnight.
- Navajo Division of Transportation
I find the system's tracking and analytics to be the most beneficial, and knowing the speed and location of my drivers. There's much more to it than I know. I can only imagine for someone who has a huge fleet; the benefits must be tremendous.
- Desert Limo
Resources
Get the latest in fleet and asset management