Key Takeaways
Driver Scorecard is a feature on TN360 that analyzes the data captured by your telematics devices and provides unique insight into driver performance. From speed and idle time, to acceleration and braking, drivers are ranked to help you identify high-risk drivers and discover opportunities for improvement.
---
WHAT IS SCORECARDS
Driver Scorecard enables businesses to measure driver performance and run fleet-wide benchmarking. Using factors including speed, acceleration, braking, cornering, revving and idle time, the system ranks drivers based on their performance. The tool is highly flexible and users can easily set metric thresholds that align with their business objectives.
The scorecards show you who has improved, who hasn't, and provides the detail to support driver coaching programs. The solution factors in every trip undertaken by a driver and displays distance traveled, fuel used, overall score and individual metric score.
WHAT ARE THE KEY FEATURES?
The highly flexible tool has a wide range of features, including:
Ability to set the threshold for the performance metrics

Dashboard showing fleet-wide and individual scores

Individual driver scorecard showing trend and fleet/branch benchmarks

Color-coded performance indicators

View scorecards for drivers or vehicles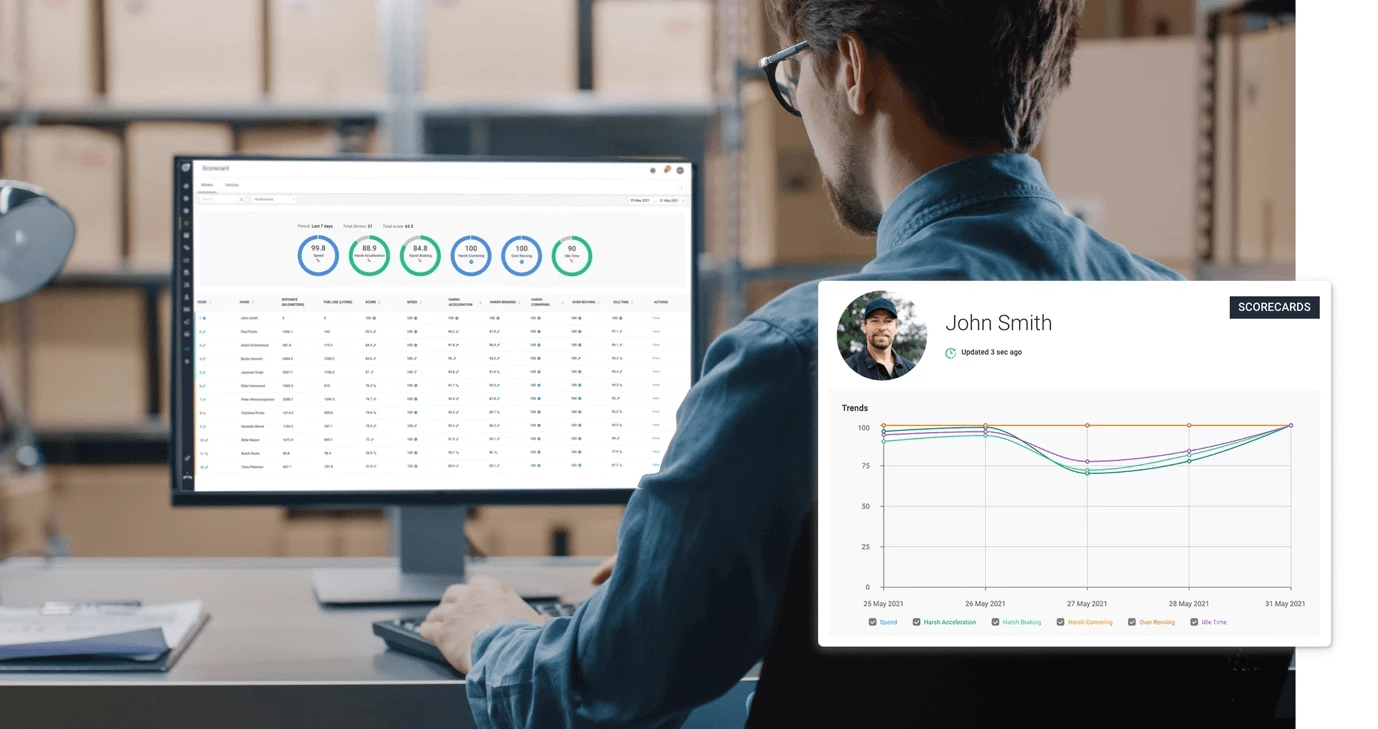 HOW CAN SCORECARDS HELP YOUR BUSINESS
Driver Scorecard provides the insights you need to help improve your business and the benefits are tangible:
Coaching & Training - with real-time insight into driver performance, you can instantly see where each driver can make improvements. With real data, you can provide corrective training and coaching in the areas that make a difference.

Efficiency - with better on-road performance, business efficiency can continue to improve through reduced fuel and maintenance costs, and by reducing vehicle downtime caused by accidents.
Maintenance - with insight into how each of your vehicles is being operated you can see the areas where your vehicles are being used harshly and align maintenance programs to reduce unplanned downtime.

Cost reduction - better driving helps you to reduce costs by minimizing fuel consumption and maintenance costs. Improved driving habits can also lead to a better insurance claims history and premium reductions.

Asset ROI - vehicles are valuable assets and by improving driver behavior you can extend their lifecycle and reduce vehicle replacement costs.
 In our 2019 telematics benchmark report, saw an average fuel reduction of 9.5% after installing telematics.