TN480
Fast Self-Install Solution for Heavy-Duty Vehicles
Designed to help businesses take control of their fleets, including vehicle location tracking, driver behavior monitoring, fuel and maintenance cost management, the TN480 is the self-install unit of choice. TN480 is a vehicle locater unit (VLU), which enables businesses to track vehicle locations and access driver behavior data that helps manage fleet activity. Manage your fleet on your schedule with this self-install solution from Teletrac Navman.  
Backed by the DIRECTOR® platform, TN480 connects a business with its vehicles and drivers in real-time, ensuring compliance and improving communication. With 4G Cat1 LTE support on the AT&T network this device meets the needs of heavy-duty fleets looking for GPS tracking and ELD compliance. 
TN480 Features and Benefits
Full Fleet Management Capabilities with a Self-Install Option
Easy Installation
Designed as a self-install solution, while also supporting hard-wired requirements, the TN480 helps to reduce vehicle downtime, quickly getting your team on the road. 
The device is built to support heavy-duty vehicles with class 7 and 8* vehicle bus requirements. 
*Class 7 and 8 vehicle category classification as noted on the U.S. Department of Transportation website, Federal Highway Administration, Vehicle Types. 
Supports ELD Compliance
As an FMCSA self-certified Electronic Logging Device (ELD) vendor, the TN480 works with all in-cab devices running the Teletrac Navman DIRECTOR ELD solution. Easily view hours-of-service (HOS) status on your in-cab device to monitor compliance.
Driver Safety
View key data such as arrival/departure times, speed, and fuel usage per trip, in addition to dangerous driving events that help you to train drivers practice safe driving behaviors.
Connectivity
The TN480 has been built to keep you connected with your fleet now and in the future. Key connectivity features include:
GPS Module
Improved sensitivity provides security that your vehicles travel points are being tracked, for full fleet visibility.
Internal LTE Antenna
Allows the VLU to be positioned in the vehicle without requiring a windscreen-mounted antenna. Optional external GPS antenna available.
Supports 4G Networks
The TN480 features a modem that supports 4G Cat1 LTE on the AT&T network. 
Technical Specifications
See why this device is right for you
Physical Dimensions: 3.2" width, 5.7" height, 1" depth
Weight: 0.35 lbs
Average Draw: 50mA
Shock/Vibration: SAE 1455
Operating Temperature: -20° to 140° F
Input Voltage Range: 8-30V
Main Micro Flash Capacity: 16Mbytes/512Kbytes
Inputs/Outputs: Standard JBUS port, 2 Analog Inputs, 1 Analog Output
Internal Cellular: Internal PentaBand GPS LTE antenna
Internal: Internal Patch
External: Via Fakra connector (supports GPS)
Accessory Serial Port: Yes
CAN Interface (J1939): Yes
J1708 Interface: Yes
Interface/Vehicle Connectivity: 12/24V vehicle power source for (J1708 bus A and bus B, CANH, CANL)
Carrier: AT&T
Network: 4G Cat1 LTE support with 3G fallback on AT&T network
Certifications: AT&T, FCC, CE, PTCRB, Intrinsic Safety - Explosive Environments
DIRECTOR platform including electronic logging device (ELD), viewable via in-cab Android tablets or smartphones.
Supports DRIVE App for Android, which utilizes a fleets own Android-based tablets or smartphones.
Your Success 
Intelligent support every step of the way
Software alone isn't the answer. Leverage our professional services for added training, customer support, and more to ensure you get even more value out of your software.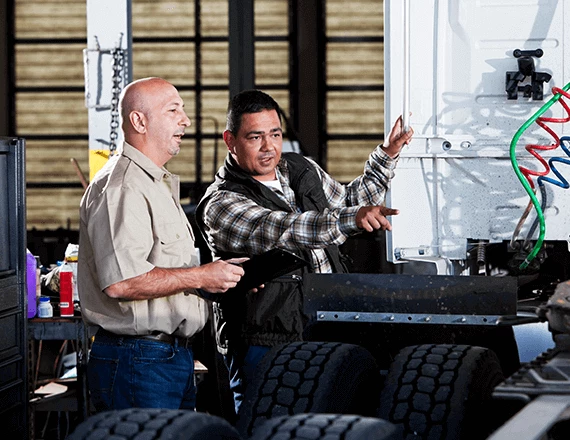 We track our loads quite a bit. We even have several customers that require us to track our vehicles every two hours and provide them with updates. Teletrac makes sure that these 'hot and sensitive' deliveries are on route and on time.
- A.N. Webber
NDOT has recovered three stolen vehicles, worth $45,000 each, using GPS data and automated text message alerts from Teletrac Navman. In all instances, their fleet coordinator received text notifications of vehicle ignition after midnight.
- Navajo Division of Transportation
I find the system's tracking and analytics to be the most beneficial, and knowing the speed and location of my drivers. There's much more to it than I know. I can only imagine for someone who has a huge fleet; the benefits must be tremendous.
- Desert Limo
Resources
Get the latest in fleet and asset management