It's been seven weeks since the President declared the National State of Emergency on March 13, 2020. Since then, Americans have been inundated with stories about how much impact the novel Coronavirus (formally known as COVID-19) has had on our way of life - from inconveniences like shortages on household paper goods to the far more serious economic impact. However, in that same timeframe, there has been no shortage of stories highlighting how Americans come together in times of need. We're rolling along this week with another edition featuring those feel-good stories. If you know people in the trucking and transport industry that could use a pick-me-up, feel free to share this to your networks.
Pizza Delivered to Hospital by Autonomous Shuttle
https://www.fleetforward.com/356766/autonomous-shuttle-service-delivers-pizzas-to-orlando-va-medical-center
Whether you like pineapple on your pizza or not, there's one thing all pizza lovers can agree on: getting it delivered by an autonomous vehicle is pretty cool. That's exactly what personnel at the Orlando VA Medical Center experienced. An Orlando-based autonomous shuttle service, Beep, partnered with a local pizza restaurant, Park Pizza & Brewing Company, to donate and deliver lunch to the valued healthcare workers on the frontlines of the COVID-19 pandemic. Learn more about how the shuttle company found a new way to support the greater-Orlando area by delivering arguably America's favorite meal – regardless of topping – to those that deserve all the appreciation we can give them.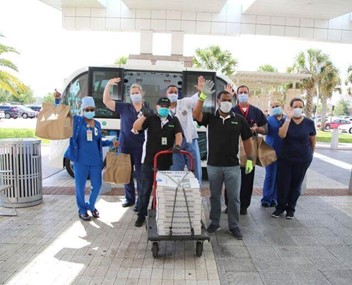 (Photo: Beep)
Prime Inc. Donates $700k to Local Hospital's New COVID-19 Unit
https://www.ky3.com/content/news/Prime-Inc-donates-700K-to-cover-costs-of-COVID-19-unit-at-Cox-South-569898051.html
The freight and logistics giant, Prime, Inc., has donated $700,000 to Cox South Hospital in Springfield, Missouri to help complete a new COVID-19 unit. The unit was idealized and constructed in a matter of just two weeks. Due to community donations including labor and supplies, the cost of the unit was kept at a bare minimum. What was still needed was the $700,000 in construction costs. With one very generous donation, Prime founder, Robert Low and his wife Lawana removed that cost as an obstacle. What stands now, is a 51-bed, ward-style Intensive Care Ventilator Unit. Learn more about the results of this act of corporate generosity.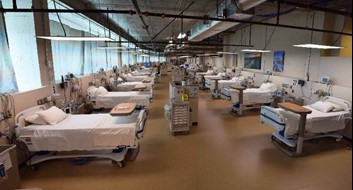 (Photo: CoxHealth)
ATA Partners with Insurance Company to Distribute Hand Sanitizer to Truck Drivers
https://www.fleetowner.com/covid-19-coverage/article/21130003/truckers-can-refill-personal-supplies-at-no-cost-at-designated-locations
In a show of gratitude for truck drivers, The America Trucking Association (ATA) and Protective Insurance Company, will be distributing hand sanitizer to truckers along major US shipping corridors. The ATA and one of its member companies, ABF Freight will be hauling ten 55-gallon drums of hand sanitizer – which was purchased by Protective Insurance – across eight states allowing drivers to refill their personal supply of sanitizer for free. Read more to learn the specific stops and times where distribution will take place.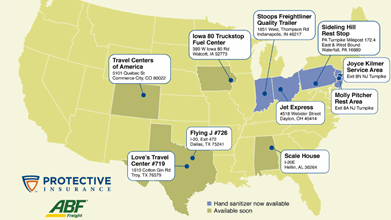 (Photo: ATA)
Truck Driver Recognized for Helping Accident Victims
https://www.freightwaves.com/news/truck-driver-awarded-for-helping-accident-victims-in-winter-storm
Frank Martin, a professional truck driver was recently acknowledged for stopping to help a couple whose vehicle ran off the road. The incident occurred while he was traveling through Wisconsin and saw a large four-door pickup truck sliding across an icy road eventually rolling down a roadside embankment. Frank didn't hesitate to stop and help the couple trapped in their car, but not before calling 911. He said, "Helping people out when they're in trouble is more important than getting a load in on time." Read more about the couples harrowing accident and Frank's quick-thinking act of bravery.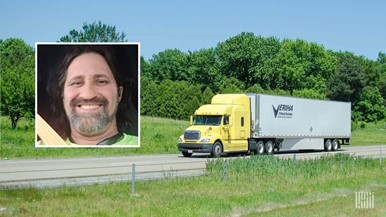 (Photo used from Freightwaves courtesy of TCA, Veriha Trucking)
FMCSA Handing Out One Million Facemasks to Truck Drivers
https://www.freightwaves.com/news/feds-delivering-1-million-masks-for-truck-drivers-across-u-s
As an expression of both support and appreciation, the Federal Motor Carrier Safety Administration (FMCSA) has pledged to pass out one-million protective facemasks to our nation's truck drivers. The agency is delivering these makes at locations in Arkansas, California, Georgia, Illinois, Indiana, Nebraska, New York and Texas. Read the article about how this effort is being undertaken or click here to learn the exact spots the masks will be distributed.