Another week of nationwide stay-at-home orders in place and still no shortage of communities, organizations and individuals banding together to make life as easy as it can be during the COVID-19 pandemic. The last couple weeks we highlighted a few corporations that turned their production lines into plants manufacturing personal protective equipment (PPE) and medical supplies and, although more of those stories remained this week (we'd be negligent if we didn't at least mention the efforts of Terex, and Genie – you can learn more about their efforts by clicking those links), we wanted to focus more on some other unique ways American businesses and individuals are continuing to pitch in.

Taco Bell Turns Headquarters into Free Drive-Thru for Truckers
https://cdllife.com/2020/fast-food-giant-turns-corporate-hq-into-free-drive-thru-for-truckers/
The fast food giant recently announced their "Truck-Thru at HQ" events where drivers of large essential service vehicles – like big rigs, fire trucks, and larger delivery vans – can pick up a free box consisting of Taco Bell favorites. This move is a way for the company to show appreciation for the essential workers that are keeping America running and is direct response to the fact that many of these vehicles can't enter a standard drive-thru, so they converted the driveway of their HQ building in Irvine, CA into a makeshift drive-thru. As of now, these events are taking place today, April 24th and next Friday, May 1, but stay tuned to Taco Bell's social media channels in case they announce more dates. If you want to learn more about what food items they are giving away click here and if you want to share their post on your social network to alert some of your followers in CA, click the image below.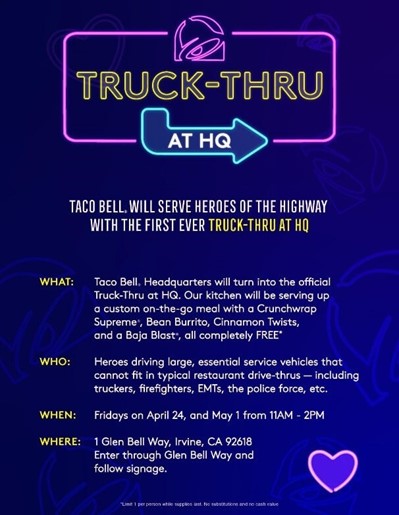 (photo: Taco Bell's LinkedIn channel)
Non-profit organization Uses Transportation Team in COVID-19 Response Efforts
https://www.convoyofhope.org/blog/features/disaster-response/covid-19-response/
Convoy of Hope's mission is to empower others to live with greater independence and freedom from poverty, disease and hunger. In support of this mission, they recently launched their 10 Million Meals initiative as a response to the coronavirus crisis. Using their transportation team, they have already delivered more than 5 million meals to those who have been impacted by the pandemic. Learn more about the work Convoy of hope does and how you can contribute to this initiative by visiting their website.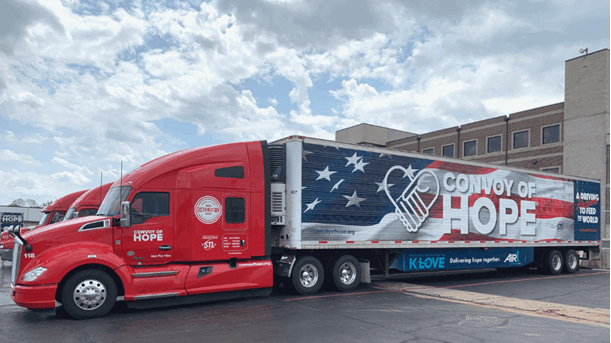 (Photo: Convoy of Hope)
Son of a Trucker Opens 400-space Lot and Offering Free Parking During Coronavirus Pandemic
https://www.freightwaves.com/news/son-of-trucker-opens-free-400-space-lot-along-i-44-in-missouri
Bob Mericle, of Bob's Parking, knows the rigors of a trucking career. His father, Ray, was truck driver for 40 years. As Bob grew older, he joined his dad on a few runs so he witnessed firsthand how hard it was on his dad. That's why he wants to do his part for truckers during this unprecedented time we are all living in. For the duration of the pandemic he is offering free parking to truckers in his lot which is along I-44, a major trucking corridor. To learn more about his lot and how you can take advantage of his generous offer, click here.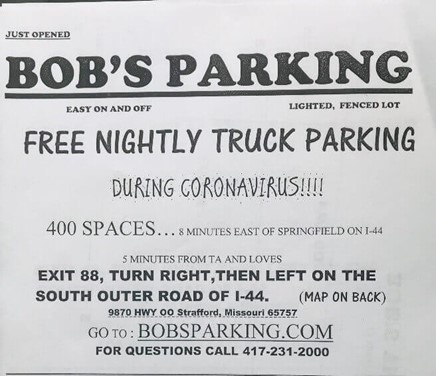 (Image: FreightWaves)
FedEx Delivery Driver Plays Last-Minute Critical Role in Beachfront Wedding
https://www.goodmorningamerica.com/living/story/fedex-driver-delivers-rings-time-couples-beach-wedding-70278693
Earlier this month, FedEx driver, Joe Engel, helped deliver a key element in a couple's beach wedding in Surf City, North Carolina. After reading a note on the door of the home that was his next stop, he realized the package he was carrying contained a couple's wedding rings. The note also stated that the ceremony was currently taking place on the beach. Joe went above and beyond by finding his way onto the beach to deliver the sentimental package into the hands of the couple in the middle of their ceremony. Learn more about how the small group of people have never been so excited to see a FedEx guy before.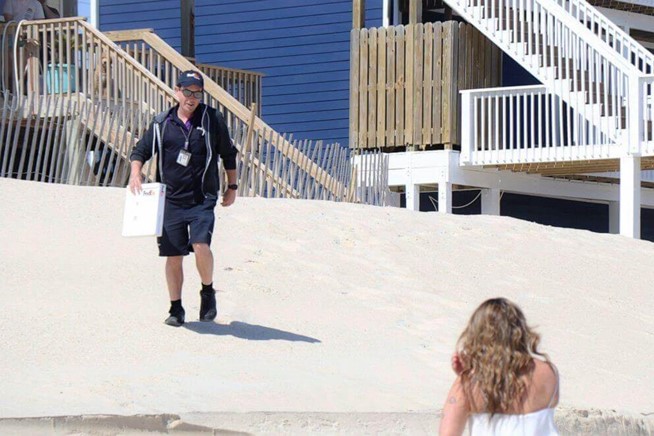 (Amy Fowler Shores via AP)
Apparel Brand Launches Limited Edition, Thank A Trucker Series
https://southerntide.com/collections/thank-a-trucker
Southern Tide, a beach-style clothing brand, teamed up with the South Carolina Trucking Association (SCTA) to launch a "Thank A Trucker" line of apparel that includes hats and shirts. Through the partnership, Southern Tide will donate portions of the sales of the limited-edition line of clothing to an appreciation fund that rewards truck drivers and supply chain workers who continue to work during the COVID-19 crisis. Learn more about this limited edition line and how you can purchase some items here.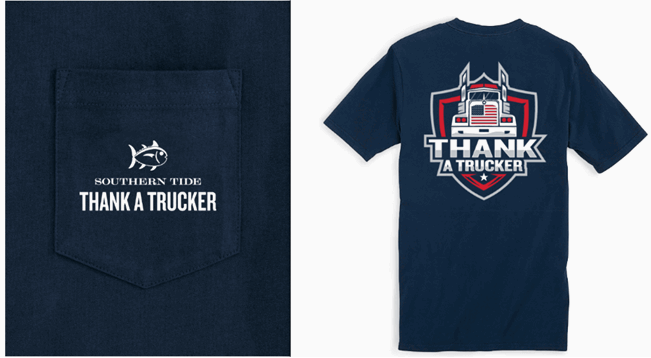 (Photo: Southern Tide)