What is fleet tracking software?
Fleet tracking software pulls together information and diagnostics reports for fleets of vehicles or equipment using GPS satellites and cellular data. In addition to meeting compliance standards, fleet tracking software provides valuable insight into fuel usage and cost, driver and operator safety and maintenance.
Explore Our Platform
Fleet Tracking Software: The Ultimate Buyers Guide
Everything you need to know to purchase the right fleet tracking software
Businesses that are dependent upon fleets of vehicles or equipment can streamline workflows and improve operational efficiencies with the right fleet tracking software. Whether you're looking to track the location of a few vehicles or need a full suite of GPS fleet tracking tools, this buyers guide is designed to help you make an informed decision based on what's best for your business.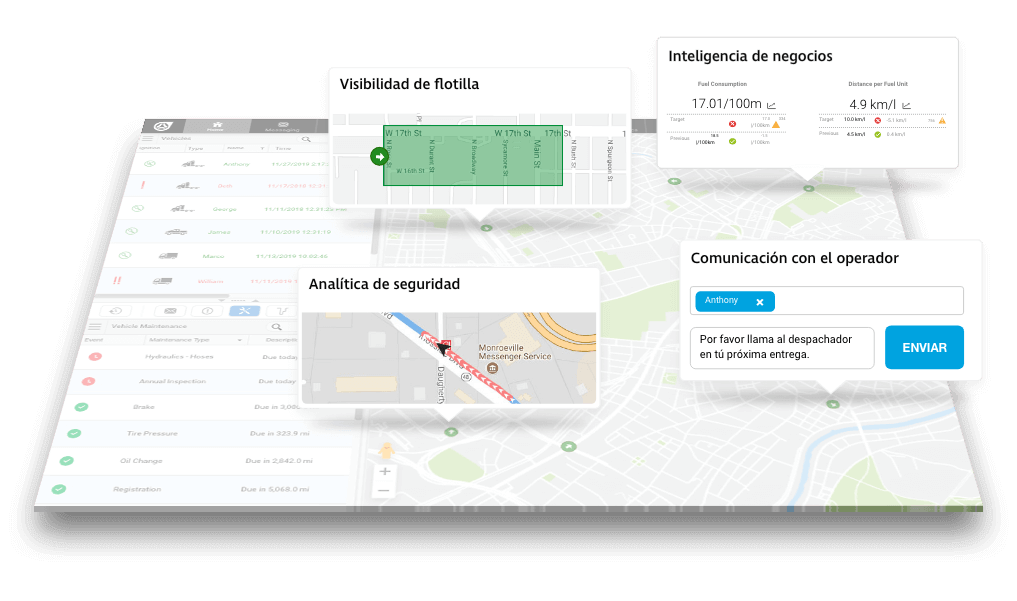 How does GPS fleet tracking work?
GPS fleet tracking works by installing a GPS unit on your vehicle or heavy equipment. This unit connects to the vehicle's OBDII diagnostic port and pulls valuable information from the vehicle's onboard computer. Using a networking of GPS satellites and cellular data, the device sends information, such as vehicle location, mileage, ignition status, fuel usage and maintenance notifications to the cloud where the data is analyzed and distilled into easy-to-read reports and dashboards based on the end user's preferences.
GPS fleet tracking also helps drivers communicate with the office, transmit forms directly through their mobile device and stay compliant with state and federal regulations.
How are businesses using fleet tracking software today?
The ability to track and trace vehicle and equipment movement via a satellite or cellular network is perhaps the most known use case of fleet tracking software. There are, however, many other features that businesses are using and when evaluating providers you should also consider their capability in these areas:
Compliance
A complete GPS fleet tracking system should be able to meet all minimum compliance requirements for ELD, DVIR, IFTA and more.
Safety
A system that can record and report on safety incidents, including poor driving behaviors, unauthorized use and maintenance.
Fuel
As a leading expense line for many businesses, the right fleet tracking software will track fuel spend and monitor fuel usage to identify wasteful behaviors, such as excessive idling and aggressive acceleration with real-time alerts.
Maintenance
The ability to track and monitor scheduled maintenance and provide real-time alerts when vehicles or equipment require maintenance is a key feature of a robust fleet tracking system.
Productivity 
Route optimization with weather and traffic data and customizable workflow solutions, such as proof of delivery, are another key component.
Integrations
An open API that integrates with third-party applications is essential to streamlining workflows and improving efficiencies. Look for a fleet tracking provider with integration partners that fit your business or allow custom connections.
Dashboard Cameras
Dashboard cameras provide the ultimate in fleet visibility and eliminate guessing games when it comes to incident investigations. No more he-said-she-said insurance hassles with second-by-second HD video. Camera options include forward-facing, driver-facing and 360-degree views.
MEETING YOUR NEEDS
Create Your Bespoke Solution Online
Every fleet operation is unique and has a need to measure different KPI's that are effected by driver behavior. From monitoring productivity to creating safety programs we have the solution to meet your needs.
Build Your Solution
What are the benefits of fleet tracking?
Fleet tracking makes vehicles more efficient by monitoring, recording and reporting on driver behavior, unauthorized use, traffic and weather. From route optimization and driver communication to safety and compliance, fleet tracking helps businesses reduce costs and measure efficiency.
Location tracking
With pin-point accuracy on vehicle and equipment location, businesses can streamline communication with customers, improve job management, monitor unauthorized vehicle use and protect assets from theft and misuse.
Reporting & Analytics
With more than one hundred pre-built reports plus the ability to build your own reports and customize dashboards, the right fleet tracking software provides unapparelled visibility into every aspect of your fleet.
Compliance
Avoid costly fines and vehicle downtime with the right compliance tools for your business. From ELD to Fuel-Tax reporting, ensuring your fleet remains compliant with national, state and local laws is a must.
Safety
View safety incidents in real-time with second-by-second data integrated camera technology. Get instant alerts and notifications when safety thresholds are surpassed and reduce frivolous lawsuits with HD dashboard cameras that provide 360-degree views.
Maintenance
Stay on top of preventative maintenance based on manufacturer recommendations or set your own maintenance schedule. Reduce vehicle downtime by knowing what maintenance is due and when. Digitize DVIRs and other inspections for instant status updates.
Driver Applications
Look for a solution that includes a comprehensive driver application that has features for communication, job dispatch, proof of delivery and pre and post trip inspections. Many apps also include routing functionality based on truck and cargo attributes, this is often desirable based on the size of your vehicles or the cargo you carry.
Hardware Flexibility
Make sure your fleet tracking providers offers a range of hardware solutions, including ruggedized hardware for heavy equipment and tamperproof options for compliance. Also be sure to ask about self-install options.
Support
With white-glove service from installation to implementation and beyond to do-it-yourself options, fleet tracking software providers offer a range of support services. On-demand training as well as 24/7 tech support have become the standard.  
Real Results
Helping our clients work smarter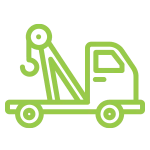 26%
Saw Reduce Accidents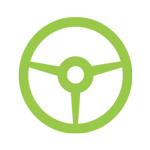 28%
Saw Improved Driver Behavior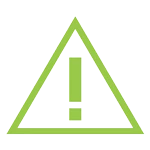 53%
Saw Fewer Safety Violations
Don't forget about on-boarding
On-boarding is an often-overlooked yet highly important aspect of selecting the right GPS Fleet Tracking Software. Taking your fleet and drivers out of service for installation and training can be costly. Research the installation track record of your provider and consider a professional implementation to ensure you're back up and running as soon as possible.
What will my installation process look like?
Once you select a provider, you will need to supply the year, make and model of the vehicles or assets you wish to track. Accuracy here is important as this will ensure that the fleet tracking provider configures you're software for the correct vehicle and asset types. Most providers offer managed install and self-install options. Be sure to schedule the installation at a date, time and place that works for your business and work with a provider that offers flexible installation programs to ensure your business keeps moving.
What training will be made available?
Training is important as it will help ensure a smooth on-boarding process. Choose between live, instructor-led training or on-demand training to suit your schedule. In-application training and support tools will ensure you understand how to use the system and resolve any issues quickly. Be sure to ask if training materials are available in multiple languages.
What level of customer support can I expect?
Most GPS fleet tracking providers offer phone and email support, but be sure the support hours fit your business model. While 24/7 support is more common, not all providers offer it. Bi-lingual phone support is crucial given today's global marketplace.
YOUR SUCCESS
Intelligent support every step of the way
Software alone isn't the answer. Leverage our professional services for added training, customer support, and more to ensure you get even more value out of your fleet management software.
See How We Support Customers
Fleet Tracking Systems
Most frequently asked questions
Businesses use fleet tracking software for various reasons, the most common of which is to monitor vehicle location and driving behaviors. Other business requirements include safety and compliance, productivity, and fuel and maintenance monitoring. With the right technology in place, businesses can increase efficiencies, enhance productivity, improve safety and extend the lifecycle of vehicles and other equipment.
GPS fleet tracking devices are installed under the dashboard and are hardwired into the vehicle's onboard computer, usually connecting via the vehicle's OBDII port. This is typically done by a professional installer and once complete the device is virtually invisible. A mobile tablet or other display unit can also be mounted in the cab which interacts with the GPS device enabling information to be shared between drivers and the back office.
Fleet tracking software gives businesses access to literally hundreds, if not thousands, of data points from a single vehicle, including location, ignition status, mileage, fuel use, maintenance, traffic, weather, and a plethora of safety-related data points, including speeding, seat belt violations and more.
Most GPS fleet tracking devices are accurate to within three meters for location information and can depend on the frequency of data relays for other metrics, such as mileage and ignition status. Poor service can impact accuracy as well. With GPS fleet tracking, your device should be in communication with at least four satellites for utmost accuracy but can still report with as little as one connection.
That being said, in times of little or no service or service disruption caused by weather, data is still stored locally on the device and uploaded once a connection is reestablished. This is less of an issue today thanks to improved cellular networks and increased GPS satellites.
When you've selected the right fleet tracking software for your business, look for a company that can implement a solution with as little downtime as possible. Some providers offer white glove services to ensure your system is up and running and your staff is fully trained as quickly as possible.
Most fleet tracking software providers offer integrations with third party applications and provide an open API for custom solutions. This is important if you hope to link your fleet tracking system to other systems within your organization. A little bit of online research will help identify which integrations exist and how they can help streamline your operations.
If you're required by law to have an ELD system, it's important to ensure the provider you're considering offer's an ELD solution that meets federal requirements. Work with an ELD provider with the knowledge and expertise to ensure you stay compliant. The Teletrac Navman ELD solution is FMCSA registered and self-certified.
GPS fleet tracking system provide accountability. Accountability is vital to a successful workforce, and data show that "good" employees are typically welcome such systems. For starters, introduce the idea of the system to the entire driver pool at once. This limits the spread of "grapevine gossip" and allows drivers to learn about the system first hand. Do not install a system before informing drivers as this can violate trust. And make sure to tout the benefits of such a system to your drivers, such as rewards and recognition programs based on driver behavior and other important driving metrics.
The beauty of modern fleet tracking systems is the mobility. With tablet, smartphone and other mobile device compatibility, fleet managers and business owners have access to the information they need, whenever and wherever they need it. Cloud technology means real-time data is delivered to any device and is always synced with other machines.