Key Takeaways
Fleet tracking software has become an important part of the transportation industry thanks to the range of benefits it provides transport operators. With GPS tracking and telematics data, fleet managers can easily monitor their vehicles in real-time, optimize routes and track driver behavior.
One of the most significant advantages of fleet tracking software is its ability to reduce average cost-per-mile for the fleet. As fuel costs and driver salaries increase, having the ability to manage cost-per-mile is crucial to maintain profit margins and remain competitive within the industry. Here's what you need to know about reducing cost-per-mile using fleet tracking software.
Table of Contents
---
Rising Costs in the Transportation Industry
Reducing cost-per-mile is essential to remaining competitive in the transport industry. With slim profit margins, even marginal cost decreases can have large impacts on a business' bottom line. For this reason, investing in fleet tracking software is one of the easiest ways for businesses to identify areas to improve efficiency and reduce costs.
Driver and Fuel Expenses
Many industries using fleet vehicles have seen rising fuel prices and driver salaries over recent years. According to the American Transportation Research Institute, these costs now account for more than half of a transport operator's total cost-per-mile. Fuel prices have been volatile, leading to unpredictable costs, while driver shortages have resulted in higher wage requirements. 
The TS23 Survey further highlights these obstacles. According to data from more than 1,800 fleet professionals across the globe, rising fuel costs were identified as the top challenge facing businesses. Additionally, performance bonuses, increased pay and guaranteed weekly rates were identified as the top three steps necessary to attract and retain drivers.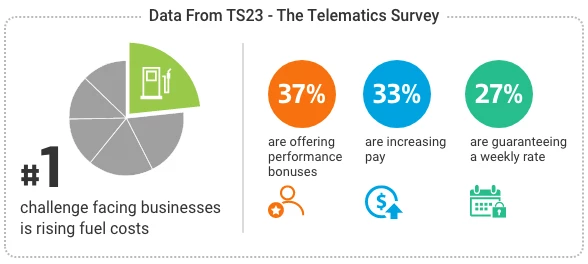 Sustainability Considerations
Reducing cost-per-mile has an added benefit beyond staying competitive in the market. Although the transportation industry is a large contributor to greenhouse gas emissions, reducing cost-per-mile can also reduce the carbon footprint of a business. This is due to the reduction in fuel consumption because of greater operational efficiency.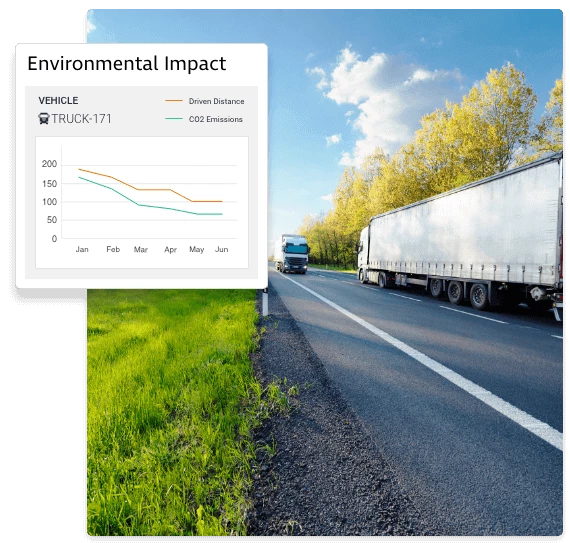 How Fleet Tracking Software Reduces Cost-Per-Mile
Investing in technology that reduces cost-per-mile can benefit a business in many ways. With telematics data on vehicle performance, driver behavior and other key metrics, fleet managers can reduce costs through data-driven decision-making.
Reducing Idle Time
Idle time is one of the largest contributors to fuel waste as well as engine wear. With fleet tracking software, managers can monitor vehicles in real-time to identify instances of excessive idling. This makes it easier to enforce anti-idling policies while increasing fuel efficiency and extending vehicle life.
Route Planning
Another key way to reduce fuel consumption is through route planning. With fleet tracking software, this process is much more efficient. With access to real-time information, fleet managers can help drivers avoid potential delays that increase time on the road. Additionally, larger fleets with dispatch teams can provide more efficient job assignments by assigning tasks to the nearest drivers, resulting in fewer miles being traveled.
Speed Monitoring
Excessive driver speeds can result in higher fuel consumption and increased maintenance costs. Speeding is also a safety concern, and legal penalties and insurance claims may result from traffic tickets and vehicle accidents.
Fleet tracking software provides operations managers with vehicle speed alerts that identify unsafe driving habits. Further, driver scorecards can be used to quickly identify and address concerning trends within the fleet by providing additional training or coaching opportunities as needed.
Preventative Maintenance Scheduling
Fleet maintenance management plays a key role in ensuring vehicles stay on the road and out of the repair shop . Tracking software can monitor vehicle performance to identify small problems so they are addressed before they become major issues.
Additionally, preventative scheduling helps to ensure all vehicles receive regular maintenance on set intervals based on manufacturer recommendations, engine hours or miles traveled. This reduces unexpected repair costs, minimizes vehicle downtime and ensures your vehicles are running efficiently.
Case Study: Griffin Waste Services
The benefits of fleet management software can quickly be seen after implementation. Griffin Waste Services, a waste hauling company based out of Nashville, Tennessee, used Teletrac Navman's fleet management products and services to retool their business operations. As a result, they've saved thousands of dollars per year.
Notable areas of improvement include:
A reduction in downtime

Fuel and maintenance savings

Elimination of payroll disputes

Optimized customer service
You can find a full breakdown of Griffin Waste Services' experiences with Teletrac Navman here.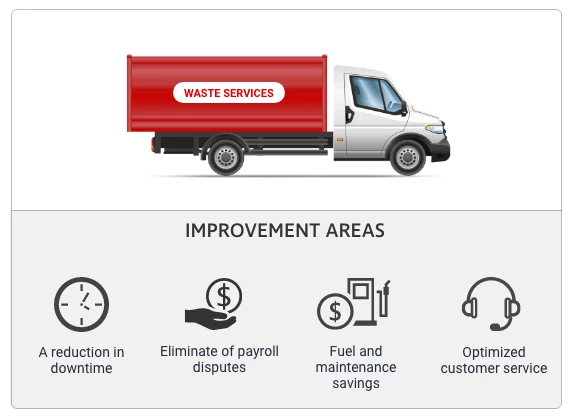 Reduce Your Cost-Per-Mile With TN360
TN360 is a comprehensive fleet management software that helps you stay connected to your people, vehicles and assets. With its flexible, scalable and customizable design, our platform streamlines your operations and helps your business remain competitive in the market.
To see how TN360 can revolutionize your business and decrease your cost-per-mile you can build your own custom solution. It only takes 30 seconds and you can learn about a platform that's designed to meet your unique needs. You can also contact us for more information if you have any questions.