Key Takeaways
Maintenance on TN360 is a computerized maintenance management system that digitizes the scheduling of vehicle and equipment maintenance. The module connects with the platform's telematics data allowing for maintenance schedules to be created using vehicle odometer and engine hours data. 
---
What is
the TN360
m
aintenance
m
odule
?
The maintenance module in TN360 allows fleet managers to easily build and assign digital maintenance schedules to specific vehicles, a group of vehicles or an entire fleet. The schedules can be based on odometer readings, engine hours or fixed time periods, and all scheduled maintenance is clearly displayed on maintenance dashboards. You can also electronically record all completed maintenance, including key information such as completion date, who completed the maintenance, the cost and any associated documentation. Key Features Include: 
Schedule builder

- easily create and assign maintenance schedules to vehicles/assets

based on odometer readings, engine hours or fixed time intervals.

 

Maintenance dashboard

- see the maintenance needs across your entire fleet and ensure that due maintenance is scheduled and competed.  

 

Digital record keeping

- record all complete maintenance events with associated data, including the completion date, who completed the maintenance and the cost.

 

 

Document attachments

- add related documents to completed maintenance events including invoices, notices or certifications.

 

 
What
m
akes
the TN360
m
aintenance
m
odule
d
ifferent?
The maintenance module is a native feature of TN360, so you don't need to setup and manage an integration to automate maintenance schedules off odometer readings or engine hours. The dashboards are also really user friendly making it easy to see upcoming, due and past due maintenance activities. There is also the benefit of managing vehicle and equipment inspections in the same platform, giving you full visibility into issue identification through to resolution.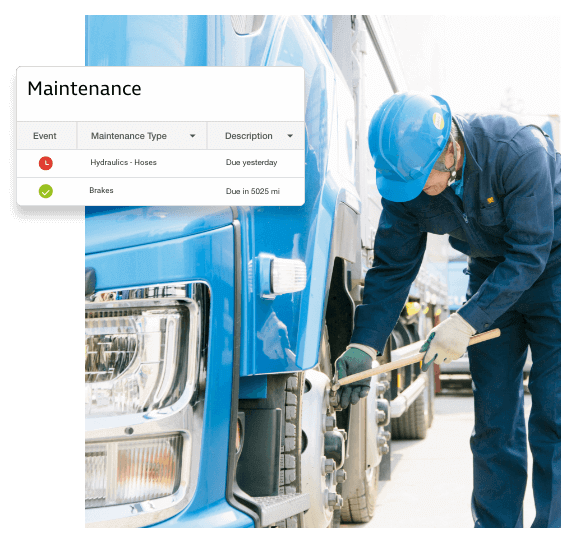 How can

the TN360

m

aintenance

m

odule

assist your business?
By digitizing maintenance planning you can streamline the process of setting maintenance schedules and create visibility that enables you to plan maintenance around business needs. Customers who use digital maintenance tools see:
Increased availability -

by following preventative maintenance schedules you can proactively take steps to keep your fleet operational and unscheduled downtime to a minimum.

 

Reduced costs -

by planning maintenance events around work schedules you can reduce the need to rent vehicles or equipment.

 

Shorter maintenance periods - 

with visibility into future maintenance needs you can pre-order parts reducing the chances of extended maintenance periods due to delays in parts delivery.

 

Extended lifecycles -

 By keeping on top of scheduled maintenance and quickly resolving issues you can keep your fleet healthy and extended vehicle and equipment life.

 
Maintenance is a module available on Teletrac Navman TN360, the AI-enabled fleet management platform, that simplifies the administration of your fleet and helps to ensure that you're meeting compliance needs.