VT101
 Hardware for your AI-Powered Platform
From light duty vehicles to heavy duty vehicles, TN360 offers the benefit of an AI-powered platform to help you derive metrics key to your business from your vehicles and drivers. Specially developed for use with the TN360 platform, the VT101 takes key information such as trip miles, vehicle engine data, and safety data and sends it to the platform where you can easily view current status, alerts and ask detailed questions through Insights or pull customized reporting.
TN360 Features and Benefits
Full Fleet Management Capabilities with AI Technology
Data Capture
VT101 captures key data from your drivers and vehicles, including harsh driving events, vehicle performance and maintenance, and delivers it to the TN360 software platform that transforms this into insights for your business.
Get second-by-second tracking for real-time vehicle status updates
Capture safety events such as harsh acceleration, braking and cornering, via the gyroscope and accelerometer
Integrates with a range of apps that can be used on Android devices with data plans
Powering Insights
Together with the AI powered TN360 platform, the VT101 enables you to access business insights through easy to use analytics tools.
Question-based search which "learns" about your business and instantly answers your questions
Visualized analytics into key performance areas including productivity and safety
Customizable reporting for trip details, driver events, vehicle performance, maintenance and alerts.
Integrated Apps
The data captured via the VT101 also powers the TN360 Mobile application that keeps you connected with your fleet throughout the day. Your driver and vehicle data can also be used alongside a wide range of TN360 mobile apps including: 
Messaging enables canned and custom messaging with drivers
Forms allow the creation of custom workflows
Pre-Trip Checklist digitizes pre and post-trip vehicle inspections and can be used as part of your workflow for any task list
Amazon Alexa and IFTTT (if this then that) integrations bring automation to you.
Technical Specifications
See why this device is right for you
Physical Dimensions: 4.96" width, 0.98" height, 2.55" depth
Weight: 5.3 oz / 150 g
Operating Temperature: -40° to 185° F
Inputs/Outputs: 3 / 3
Accelerometer: 3-axis MEMS
Battery: 100mAh LiPo
Antenna: Internal cellular and GNSS
Supports live alerts (Geofences)
Bluetooth: BLE 5.0
Connectivity: 4G Global LTE Cat M1 / NBO / GPRS
Certifications: FCC Part 15 Class B, IC
GPS: GLONASS,GALIGLEO,BEIDOU,NavstarGPS
Ratings: IP4x
Your Success 
Intelligent support every step of the way
Software alone isn't the answer. Leverage our professional services for added training, customer support, and more to ensure you get even more value out of your software.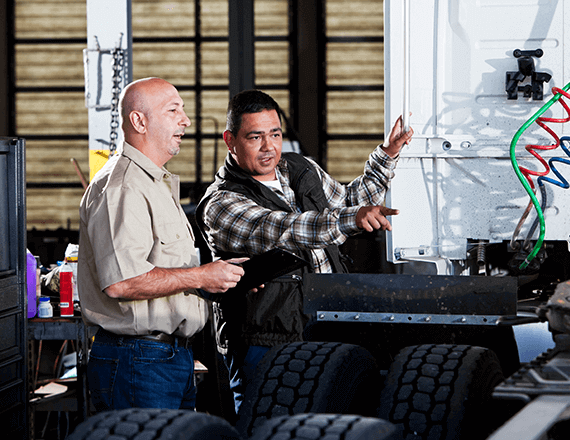 We track our loads quite a bit. We even have several customers that require us to track our vehicles every two hours and provide them with updates. Teletrac makes sure that these 'hot and sensitive' deliveries are on route and on time.
- A.N. Webber
NDOT has recovered three stolen vehicles, worth $45,000 each, using GPS data and automated text message alerts from Teletrac Navman. In all instances, their fleet coordinator received text notifications of vehicle ignition after midnight.
- Navajo Division of Transportation
I find the system's tracking and analytics to be the most beneficial, and knowing the speed and location of my drivers. There's much more to it than I know. I can only imagine for someone who has a huge fleet; the benefits must be tremendous.
- Desert Limo
Resources
Get the latest in fleet and asset management