Key Takeaways
Many fleets have tracking systems that monitor their vehicles, but vehicles are only one class of equipment that companies move. Asset tracking complements vehicle tracking systems, providing location and analytical data to manage various types of equipment.
Asset tracking solutions monitor powered and non-powered equipment
Hardwired, battery and solar devices can be used for different asset types
Data includes location, maintenance, operator behaviour, and more
Companies can manage maintenance, reduce rental costs, reduce theft, and more
---
What is Asset Tracking & How Does It Work?
Asset tracking utilises GPS location tracking to provide timely and accurate location data and other information about company assets. A GPS device can be installed on virtually any asset, including both powered and non-powered and companies use it to track:
On-road trucks & other vehicles (e.g. tractor-trailers, dump trucks)
Heavy off-road equipment (e.g., cranes, backhoes)
Small powered assets (e.g. flood lights, skid steers)
Non-powered assets (e.g. trailers, containers)
Fleet and equipment managers know all too well that off-road equipment and smaller assets are just as important to monitor as on-road vehicles and are often more difficult to keep track of. Asset tracking takes the frustration and difficulty out of monitoring assets, their maintenance, and usage.
So how does GPS asset tracking work? Well in short there are three key steps, these are:
Capturing asset location data via a GPS device installed on an asset.
Transmitting data captured over a secure cellular network.
Using a web-based software platform to visualize asset location and supporting data.

How to Choose the Right Asset Tracking Devices
The type of asset you want to track will determine the type of tracking device you need. Here is an overview of the different type of tracking devices and the assets they are designed for.
Heavy Equipment: Choose a ruggedised, IP7-rated, hard-wired asset tracker designed for heavy equipment. In addition to location information, this device will collect asset diagnostics, including engine hours, fuel use, idle time, and more.
On Road Trucks: Choose a device designed for trucks that is hardwired into the vehicle and collects location data and engine diagnostics, making is perfect for safety and compliance-related uses.
On Road Light vehicles: Select a device that is designed for light-duty vehicles, such as vans and work trucks that can be self-installed giving you more installation flexibility.
Small Assets: Choose a battery-powered GPS tracking device that provides location and movement data for smaller powered and non-powered equipment, such as generators, portable toilets, trailers, and more.
Tools & Small Equipment: Use QR codes that enable items to the checked in and out using a smartphone, helping companies manage inventory and maintain a proper chain of custody.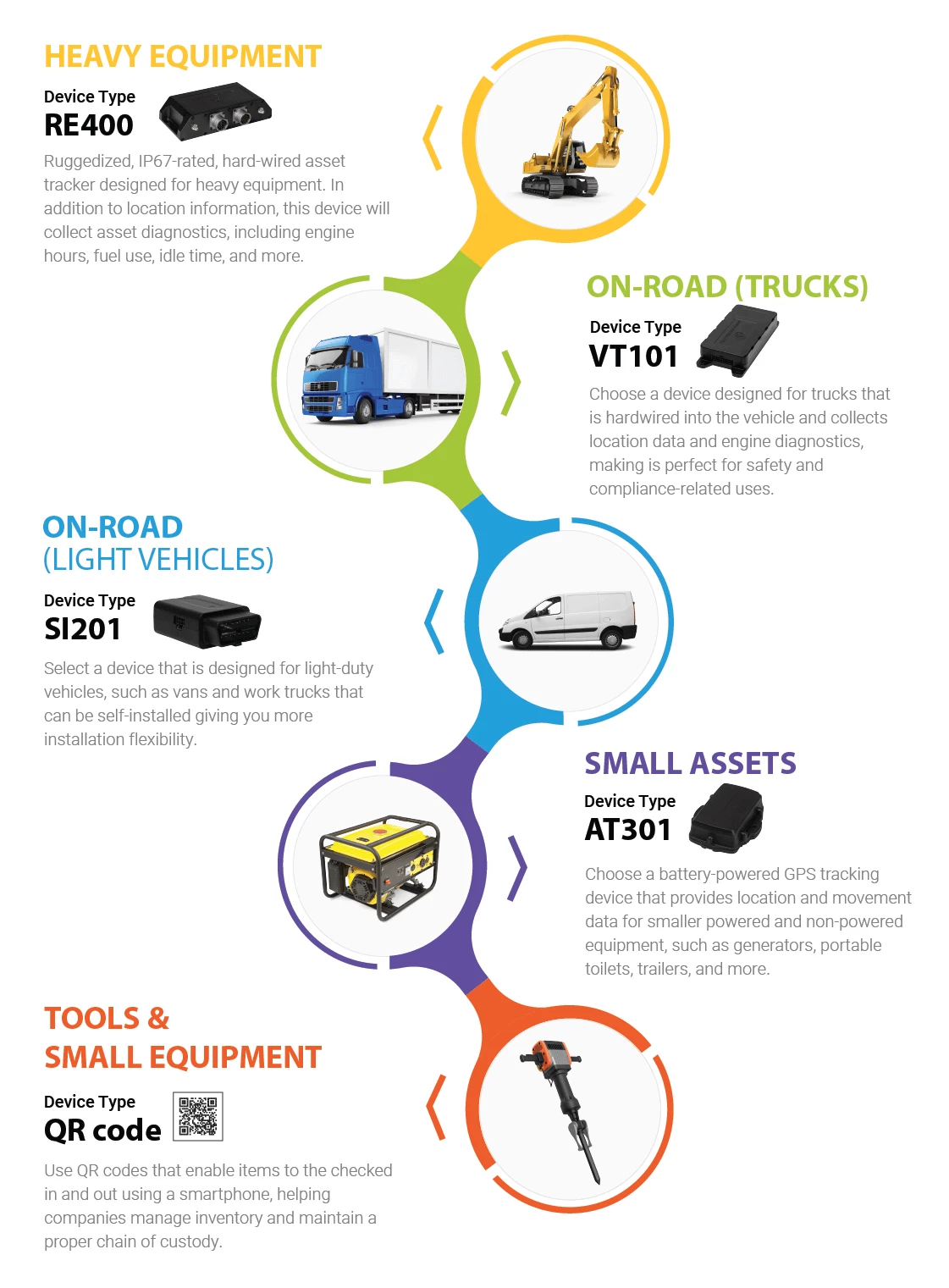 6 Key Benefits of Asset Tracking
The data that asset tracking systems generate can be used to increase efficiency, improve safety, and reduce costs in several ways. Six of the key benefits are:
1). Monitor Maintenance Schedules
Combining usage and location data makes managing maintenance easy. Fleet managers can track when equipment will need maintenance and check where the equipment is located. Maintenance can then be scheduled so that it's completed on time, and when the equipment isn't needed on site. Planning preventative maintenance reduces the likelihood of unplanned maintenance, that can impact project schedules.
2). Lower Rental Costs
By efficiently managing equipment location and monitoring utilisation, managers can reduce asset and equipment hoarding and lessen how often rental equipment is needed. Even a slight reduction in rental costs can provide significant savings.
3). Monitor Driver and Operator Behaviour
When asset tracking devices are installed into vehicles and equipment, they can be used to monitor not just vehicle activity but also operator behaviour. Managers have access to equipment operator behaviours, such as idle time, fuel usage, and other metrics for on-road drivers like speeding, distracted driving, and fatigue. Measuring operator and driver behaviour is a quick way to improve safety and reduce costs.
4). Reduce Theft
Knowing where all equipment is in real time reduces the risk of theft and improves inventory management. Managers can ensure equipment is kept in the safest reasonable locations, and they can instantly see any equipment that's moving in an unauthorised or unusual manner. Alerts can even be set up via geofencing, so managers know what equipment is entering and leaving jobsites.
5). Maintain Chain-of-Custody Reports
When something goes missing, everyone wants to know who's responsible. Asset tracking can ensure accurate and verifiable chain-of-custody reports, in case customers or government officials ever come asking.
6). Ensure Customer Satisfaction
Reducing costs and delays help ensure projects are completed on time and on budget. That makes for happier customers.

6 Key features of Asset Tracking
There are several key asset tracking features to look for, including:
1). Location Information:
Asset tracking devices can monitor location in real-time, when motion is detected, or at intervals set by the system admin.
2). Motion Alerts:
The system can alert asset managers anytime a piece of equipment is in motion or during set time windows. This can help cut down on theft and unauthorised use.
3). Geofences:
Geofences can be set up to alert asset managers when an asset enters or leaves a specific geographic area.
4). Site Level Reporting:
Site-level reporting can provide insights at the job-site level, including equipment inventory, maintenance, and usage.
5). Maintenance Scheduling:
Your asset tracking system should provide robust maintenance schedules following either manufacturer-recommended cycles or asset usage information.
6). Utilisation Analytics:
See if, when, and how equipment is being used on a jobsite directly from your dashboard.
The Teletrac Navman Advantage
The Teletrac Navman asset tracking system can be installed on virtually any powered or non-powered assets and provides detailed analytics into usage metrics (e.g. downtime, maintenance, etc.) and performance metrics (e.g. operator behaviour, fuel consumption, etc.) that are fully integrated into one software platform.
To learn more about our asset tracking, explore the customisable solutions. Our hardware and software allow for a custom solution that's specifically tailored to your company's needs.
Frequently Asked Questions
Each piece of equipment must have its own GPS tracking device or QR code. The best devices provide real-time tracking down to the second, and have extensive connectivity via GPS, CAN bus, and general-purpose input/output (GPIO).
Additionally, solutions that offer hardwired, battery, and solar power options make it easy to integrate diverse types of equipment.
Our asset tracking software has hundreds of pre-built reporting options and the ability to create custom reports. Prepopulated reports can show location, engine diagnostics, misuse, and more. Reports can also be automated to send to key stakeholders at the desired time.
Maintenance planning digitises your entire maintenance program, triggering maintenance events via engine diagnostics, engine hours, or manufacturer-set schedules. The system can also track costs and provide insights into where maintenance budgets are being spent. When combined with a full GPS asset tracking platform, this data can be used to educate operators and equipment managers on better upkeep.
Managing inspections is a key feature of a GPS asset tracking system. By digitising pre- and post-use inspections, equipment managers can gain better insights into equipment use and upkeep. Spot maintenance issues quickly and act on them before they become large, more expensive problems. Drivers and operators can submit inspection reports digitally, reducing the time and paperwork needed to maintain your fleet.