Battery-Powered Asset Trackers
A new phase of intelligent self-powered asset tracking
Teletrac Navman's AT301 is a GPS-enabled telematics device ideal for keeping track of powered or unpowered assets. With its small footprint and rugged housing, it is ideal to track most things across your fleet, such as containers, trailers, skip bins, tools, construction equipment, and other critical assets.
The AT301 has an extended battery life that helps you keep track of your assets for the life of your equipment, with the ability to track assets throughout the day or whenever movement occurs. Using the modern NB-IoT and LTE-M network, get reliable location tracking and cost-effective management for the life of your equipment.
With real-time alerts through the fleet management solution, the AT301 allows you to track asset locations utilization when you need it the most. It provides a level of comfort in recovering stolen assets, reducing insurance premiums, and recuperating lost revenue.
Easily self-install to your assets, you can see all your assets together in one system around the clock. With connected assets, you can run your business with confidence and accelerate your productivity.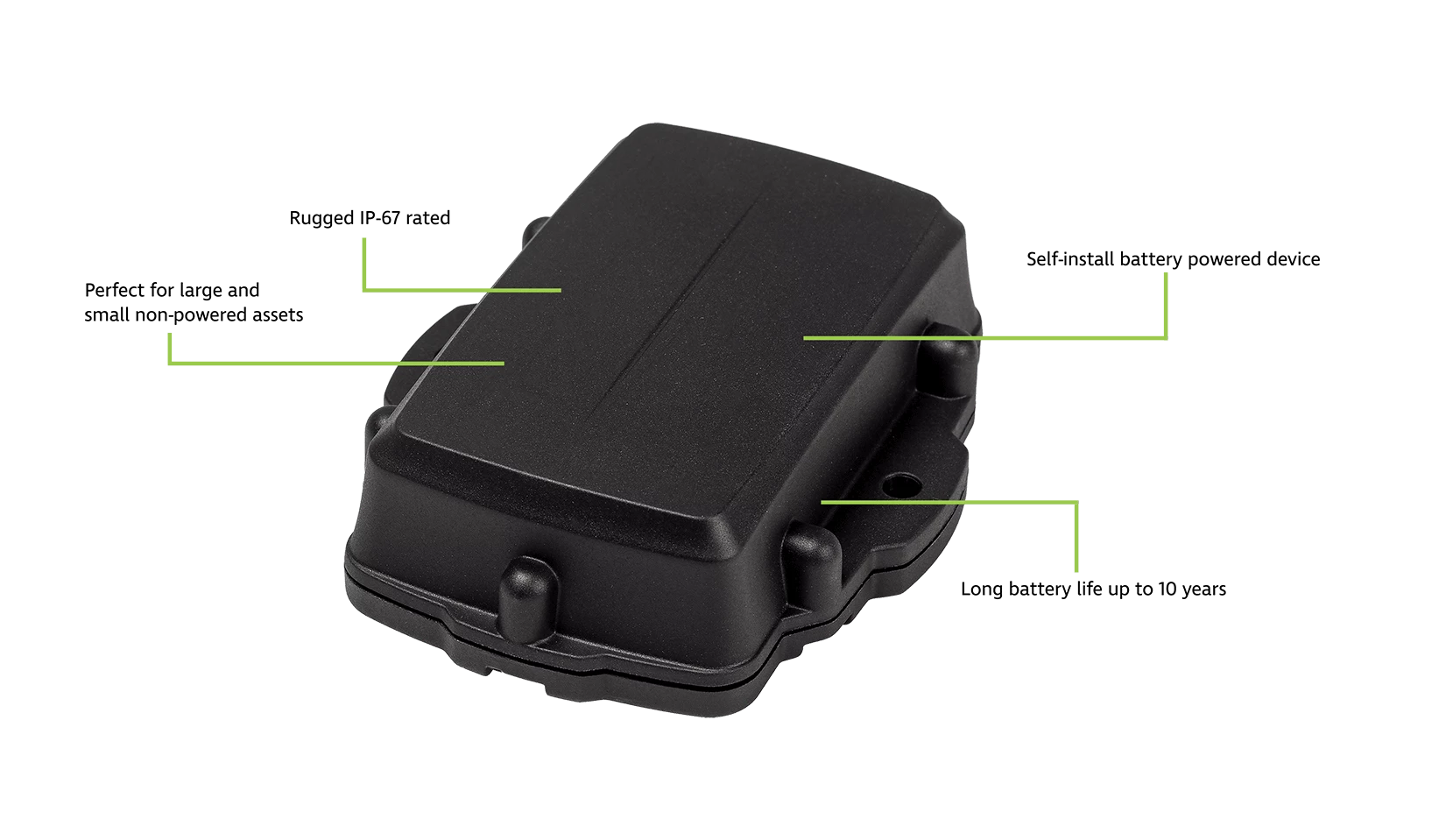 ATS1 Features and Benefits
Keep track of all your unpowered assets
GPS ASSET TRACKING – Smart tracking of powered or unpowered assets - see your entire fleet in one system.
LONG-LIFE BATTERY – Optimized performance means you get 10+ years of battery life, lasting the life of the asset – get alerts when batteries are running low or at critical level.
LOW COST OF OWNERSHIP – Ability to self-install across your fleet, with a device where you can replace long-life batteries.
POWER CONSERVATION – Optimized tracking and network capabilities for excellent power conservation and area coverage, coupled with optimized data bandwidth and speed, providing the best balance of cost and performance.
SMALL BUT BUILT TO LAST – Rugged and waterproof IP67-rated housing offers a discrete and highly durable form-factor that suits a wide range of asset types and sizes.
MANAGE YOUR ASSETS WITH EASE – Define yards and job sites through geofences and report on equipment location, activity, and utilization by site.
REAL-TIME ALERTS - Receive alerts on equipment events such as movement from sites after hours indicating potential theft.
COST-EFFECTIVE – Dual 4G LTE--M1 and NB-IoT network communications make the device reliable and future-proof.
Deploy Once Battery Life
Over 10+ years battery life on user-replaceable 3 x AA Lithium batteries for extreme temperature operation. Get "Battery Low" alerts through our fleet management solutions.
Adaptive Tracking
Periodic and movement-based tracking of assets throughout the day and/or when movement occurs, entering sleep mode when inactive to conserve power and data usage.
Ultra-Rugged
Small low-impact IP67 rated housing ensures the device can withstand fine dust, high-pressure spray, and submersion for 30 minutes in 1m of water.
Multiple Applications
From the power of single device, you can install across a range of assets in the business to prevent theft, loss and improve utilization across multiple industries.
Technical Specifications
See why this device is right for you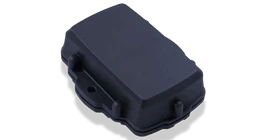 Physical Dimensions: 4.25" width, 3.39" length, 1.22" height; 5.68 oz. weight
Certification: IP67
Input/Output: 0/0
Modem: Nordic nRF9160 Modem operates on all major LTE-M and NB-IoT bands.
LTE-M (Cat-M1): B1, B2, B3, B4, B5, B8, B12, B13, B14, B17, B18, B19, B20, B25, B26, B28, B66

NB-IoT (Cat-NB1/NB2): B1, B2, B3, B4, B5, B8, B12, B13, B17, B19, B20, B25, B26, B28, B66
SIM Size: Internal Nano 4FF SIM
GNSS Constellations: Concurrent GPS, GLONASS, Galileo, BeiDou, QZSS
GNSS Module: Sony CXD5605
Tracking Sensitivity: -147 dBm cold start/ -161 dBm hot start
Accelerometer: 3-Axis Accelerometer to detect movement, high G-force events and more
Operating Temperature: -22° to 140° F
Memory: ~25,000 records
Antenna: Internal cellular and GPS antenna
LEDs: Diagnostic LED indicates operation status
Tracking: Options for hourly, on movement, or daily tracking; Current speed and heading is reported with each position update
Firmware Updates: Over-the-Air (OTA)
Installation: Self-installable device; Professional installation available at extra costs
Supported Platforms: DIRECTOR and TN360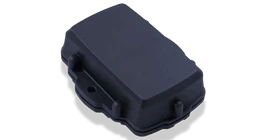 Battery Type: 3 AA
Supported Battery Types:
Alkaline
*Lithium (LiFeS2)
*Lithium Thionyl Chloride (LTC)
*Lithium or LTC recommended for best performance. Please dispose of batteries in a safe and responsible manner.
Replaceable: Yes
Battery Life:
Once daily location updates: 10+ years
Movement-Based location updates: 7 years
Hourly location updates: 3.5 years
Supply Voltage: 3.3-16V DC
Current Consumption (Sleep Mode): <10uA*
*Average current in lowest power configuration
Your Success 
Intelligent support every step of the way
Software alone isn't the answer. Leverage our professional services for added training, customer support, and more to ensure you get even more value out of your software.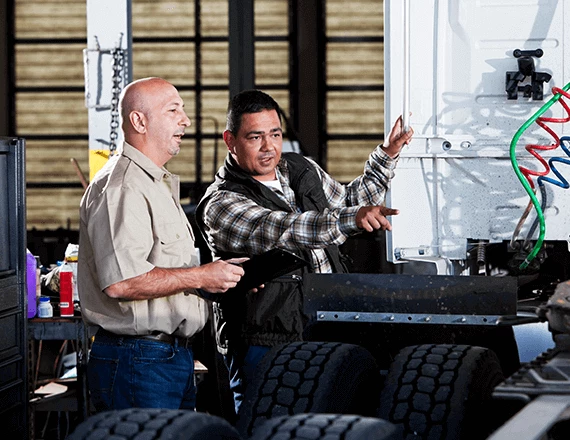 We track our loads quite a bit. We even have several customers that require us to track our vehicles every two hours and provide them with updates. Teletrac makes sure that these 'hot and sensitive' deliveries are on route and on time.
- A.N. Webber
NDOT has recovered three stolen vehicles, worth $45,000 each, using GPS data and automated text message alerts from Teletrac Navman. In all instances, their fleet coordinator received text notifications of vehicle ignition after midnight.
- Navajo Division of Transportation
I find the system's tracking and analytics to be the most beneficial, and knowing the speed and location of my drivers. There's much more to it than I know. I can only imagine for someone who has a huge fleet; the benefits must be tremendous.
- Desert Limo
Resources
Get the latest in fleet and asset management