Key Takeaways
Maximizing return on investment (ROI) is a crucial strategy for any business, and it applies to all areas of operations, including equipment. Preventative equipment maintenance is one of the best ways to achieve a higher return on investment and in this article we will highlight the importance of an effective preventative maintenance plan and how this approach differs from condition-based maintenance plans. We'll also cover the potential savings of implementing a preventative maintenance schedule and how to integrate a digital maintenance program into your operation successfully.
Table of Contents
---
Understanding Preventative Equipment Maintenance
Preventative maintenance refers to a proactive approach to equipment maintenance. This strategy involves regular inspections, servicing, and repairs to prevent breakdowns and extend the life of the equipment.
With preventative maintenance, businesses can avoid costly repairs by servicing minor problems before they become larger ones. In turn, this can minimize downtime and increase the performance of the equipment on hand. This maintenance strategy can be used with both new and old equipment to ensure optimal functionality and reliability throughout the equipment's life cycle.
Preventative maintenance differs from condition-based maintenance in that it takes a proactive approach to maintenance rather than a reactive one. With condition-based maintenance, equipment is monitored for specific indicators that suggest a need for intervention. While this may seem like a cost-saving strategy, small indicators of problems may be missed, leading to costly large repairs. Additionally, repairs are less predictable and may cause a greater strain on business operations should they come at inopportune times.
Equipment Maintenance Tracking and Return on Investment
ROI provides a convenient metric for evaluating the profitability of investments, and it holds equal importance for equipment ownership. Measuring ROI against total ownership costs involves considering factors such as purchase price, operating costs, maintenance costs, and resale value. Preventative maintenance directly affects many of these metrics by minimizing breakdowns, extending equipment lifespan, and ensuring optimal performance over the equipment's entire lifetime.
Potential Savings With Preventative Maintenance
By implementing a preventative maintenance schedule, businesses can take advantage of a variety of potential cost savings. The largest potential savings is through minimized repair costs. By identifying and addressing problems early, businesses can avoid costly repairs and emergency maintenance. This approach also mitigates the need for unexpected rental costs that may arise when owned equipment is unavailable due to failure or extended maintenance.
On the revenue side, preventative maintenance can help decrease equipment downtime, which directly impacts productivity and revenue, by minimizing project delays. In a world where there are shortages of parts and extended lead times, having efficient inventory planning can offer a significant competitive advantage. The data gathered through a preventative maintenance program can help businesses better forecast their needs, ensuring they have the necessary parts on hand when they are required, helping to prevent extended downtime due to parts shortages.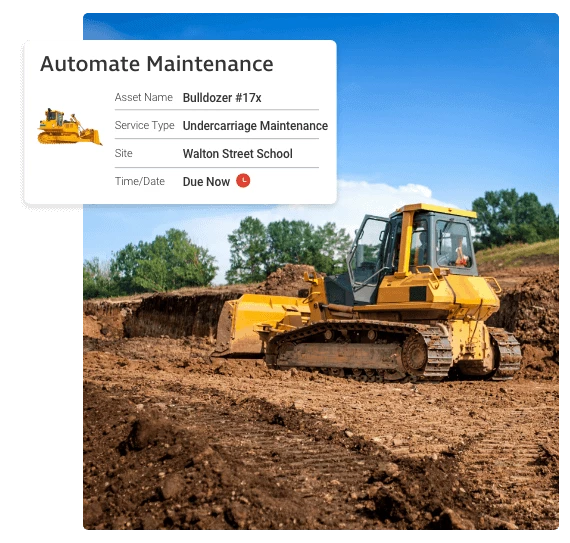 Leveraging Equipment Maintenance Software
Preventative maintenance offers clear advantages for equipment operators. However, many businesses face challenges in implementing effective schedules.
To improve maintenance planning, businesses can invest in equipment maintenance software and tracking tools like Teletrac Navman's TN360 ACM equipment management software. This comprehensive suite includes features that support effective preventative maintenance with a platform designed to create and manage maintenance schedules, track equipment utilization, and automate reminders. You can also streamline inspections with flexible tools built into the platform that allow drivers and operators to easily keep tabs on vehicle conditions.
This powerful software offers a host of benefits for organizations of all sizes. It can centralize equipment management activities, improve operational efficiency, and reduce the likelihood of costly oversights while offering advanced reporting capabilities.
Tracking Equipment ROI
Buying equipment often requires significant investment, making it essential to track the return being generated. These steps can offer you a starting point for estimating if you are getting a positive return from your equipment investment.
Determine your depreciation cycle. Depreciation refers to the loss in value of equipment over time. Once you've acquired a piece of equipment, calculate its remaining useful life to determine its depreciation cycle.
Establish internal rental rates. Determine daily rental rates for each piece of equipment. Multiply this rate by the number of days the equipment is on-site to calculate the internal rental value. This value can be used to calculate the return the piece of equipment generates.
Consider maintenance costs. Monitor the ongoing ROI of a piece of equipment by incorporating ongoing maintenance costs into the equation. This simple formula (Internal Rental Value / (Depreciation + Maintenance)) * 100, shows if the rental value of the equipment exceeds the associated costs over a fixed time period. As this number approaches or falls below 100%, operators should consider equipment replacement or transitioning to a rental structure.

Three Tips For Effective Preventative Equipment Maintenance
It's important to create a detailed preventative maintenance strategy before implementation. Here are some tips for getting the most out of your plans:
Conduct equipment assessments and make initial maintenance plans.

Evaluate current equipment conditions, identify critical components, and develop tailored strategies for each asset within your organization that you wish to track with equipment maintenance software.

Set up regular maintenance tasks and inspections.

Establish a regular schedule for maintenance tasks, including inspections, parts replacement, and calibrations as necessary. Schedules can be set based on manufacturer guidelines, industry best practices, or similarly regular intervals.

Use data collected over time to determine optimization opportunities.

Turn data into decisions by leveraging the information collected to identify trends and use this to improve maintenance schedules, and make data-driven decisions regarding equipment replacements or a move to a rental model.
Get More Out of Your Equipment With TN360 ACM
Maximizing equipment ROI requires a proactive strategy and strategic approach to maintenance. By implementing a preventative maintenance schedule, businesses can reduce costs, extend equipment lifespan, and improve operational efficiency. Leveraging equipment management software like TN360 ACM can further enhance these efforts with a custom solution that fits your business needs.
Contact us today to learn more about our TN360 ACM platform and the benefits of advanced equipment management software and tracking. You can also use our online tool to build and price a custom platform for your needs in just 30 seconds.