A Driver Vehicle Inspection Report (or DVIR) allows drivers to complete and submit daily vehicle inspections via an in-vehicle tablet. They replace paper inspection reports while retaining compliance.
Explore Our Solutions
As described in FMCSA regulation 396.11 and 396.13, Driver Vehicle Inspection Reports are federally-mandated logs that detail vehicle operations and safety issues noted during vehicle inspections. Each driver must complete and submit these reports for their vehicle on a daily basis.
How it works
The digital logs are easily accessible on a telematics-supported portable in-vehicle tablet, allowing drivers to walk around the vehicle and complete a thorough inspection. Once a report is submitted electronically, fleet managers can easily identify, group and monitor vehicles that require routine or urgent maintenance. They can also review, print and share inspection records for each vehicle.
If a report indicates a need for maintenance, DVIRs can incorporate a mechanic's notes and updates, along with their electronic signature.
The following workflow describes the lifecycle of an inspection report: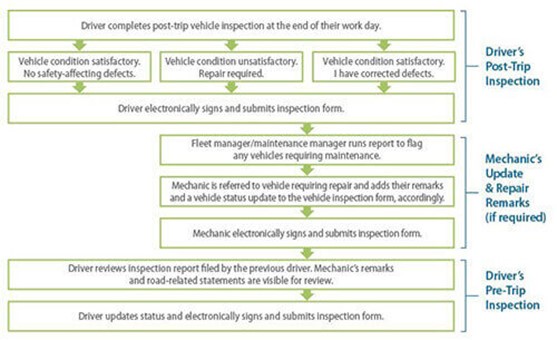 Benefits of DVIR
Paperless Driver Vehicle Inspection Reports provide the driver with fast, intuitive submission of pre-trip and post-trip inspections. These reports are filed electronically, allowing fleet managers to:
Receive real-time post-trip and pre-trip inspections
Easily create FMCSA-compliant electronic reports for tractors and trailers
Reduce downtime by receiving digital notifications of asset defects
Easily flag vehicles that have bypassed or missed inspection reports
Reduce the risk of compliance violations
A Brief History
The purpose of a Driver Vehicle Inspection Report is to bring notice to any faults or defects the driver observed in the vehicle and its equipment. The report allows repairs to be done in a timely manner so that vehicles can maintain high operating efficiency. They also provide safety to the driver and the general public on the road.
But at one time, a driver was required to fill out a DVIR form on paper for every trip, regardless of whether there were any issues that needed attention. It was just another part of the constant paperwork the job demanded.
A change was put in motion starting in 2011, when President Barack Obama directed federal agencies to undertake reforms that would reduce burdens on the private sector. The Federal Motor Carrier Safety Administration (FMCSA) had another look at the DVIR requirement and considered that perhaps this bit of red tape was more trouble for drivers than its presumed documentary value.
The FMCSA estimated that professional truck drivers spent approximately 46.7 million hours each year completing DVIRs, even when they had no safety defects or mechanical problems to report in them.
This not only took up a lot of the drivers' time, it also stuck the FMCSA with the 19th highest paperwork burden of all federal agencies. Taking into account behemoths such as Medicare, Social Security and the Veterans Administration, that's a lot of paper.
As a result the agency modified the regulation to introduce what's known as the No-Defect DVIR Rule. Beginning in 2014, truck drivers whose pre-trip and post-trip inspections turn up no equipment issues or safety concerns would not need to file the report.
Without doubt this represented a major achievement in hassle reduction for drivers.
For the most current compliance regulations from the FMCSA, visit https://www.fmcsa.dot.gov/regulations.