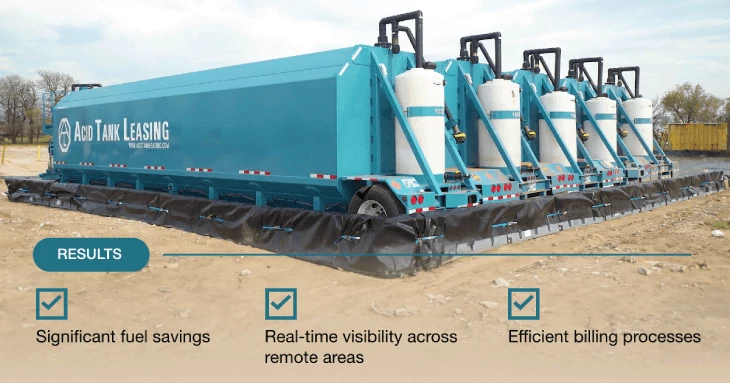 EXPERT ASSET MANAGEMENT SERVICES GIVE ACL A NEW LEASE OF LIFE
You know the old saying 'it's like finding a needle in a haystack'? Well try finding 118 acid tanks across 2,000 square miles of oil fields without any asset management technology.
That was the situation facing Enid-based (OK) Acid Tank Leasing as demand grew for its industry-leading tanks in states as far apart as Texas and North Dakota – a daunting task for any operations manager if relying solely on verbal communication to confirm the location and status of each tank every day.
AN INNOVATOR EXPERIENCING DEMAND FOR SERVICES
Acid Tank Leasing is recognized as a pioneer in its field for excellence in engineering; founded just ten years ago, the business has experienced exponential growth due to developing acid tanks using several patented technologies that provide a cleaner and safer environment for the oilfield and other industries.
Each tank works like a vacuum to suck all the undesirable hydrogen chloride (HCL) gas fumes out of the immediate atmosphere, then cleans them using a scrubber tank to take the HCL fumes down by 98% – better for the environment, and certainly better for employee health and wellbeing. What's more, each tank utilizes electronic monitoring systems to see acid levels in real-time and ensure each one can operate to maximum efficiency.
MANAGING OPERATIONS AND MOBILE ASSETS IN A PERIOD OF GROWTH
These acid tanks aren't small by any stretch of the imagination – each one is designed to fit on the back of a semi-truck, so the logistics involved in replacing them or moving them up and down the country effectively and efficiently is a major job.
This is something Jeff Wheeler, Operations Manager at Acid Tank Leasing, has experienced in the relatively short time the business has been in market. "We currently have 118 tanks in operation with another 45 being added to our inventory soon and it is essential to have real-time visibility of where they are," he comments.
"We're so geographically spread – we could have tanks everywhere from Pennsylvania, to North Dakota, West Virginia, Texas, and New Mexico. Not only that, the remote locations we operate in are usually in areas of zero cell phone signal. We also use a third-party to supply the transport, so our operations need to be tight and well-coordinated, particularly when we're dealing with such a disbursement of assets and timings are crucial in the industries we support.
"Before we had an asset tracking solution it could take us hours to locate the tank, lots of phone calls, lots of running around, costing us hundreds of dollars in fuel each day and potentially causing additional damage to the tank, which of course isn't good for the HCL levels on-site."
TURNING TO THE CONNECTED TRACKING EXPERTS
Teletrac Navman's long-standing reputation and expertise in the field of connected mobility and asset tracking saw Jeff seek the business' support.
Teletrac Navman aims to be the driving force behind the industries that transform and sustain our futures – just as the oil fields have done for decades – by offering simple and intelligent solutions that enhance efficiency, safety, and sustainability.
In keeping with Acid Tank Leasing's ethos of being a true partner to its customers, Teletrac Navman spent time with the business to understand its challenges and operational objectives before recommending a mix of powerful GPS trackers and its cloud-based asset monitoring and management platform.
The platform provides an easy-to-use interface that allows Jeff and Acid Tank Leasing to keep its asset utilization and transportation efficient through real-time data and tracking, geofencing each tank to an area contractually agreed with its clients, as well as integrate its tank monitoring system for more streamlined management of acid levels, tank replacements and third-party transportation services.
SMOOTH OPERATOR
"Teletrac Navman's asset management platform is my lifesaver", comments Jeff. "I have it open 24/7.
"The mix of connected technology recommended by Teletrac Navman has simplified a complex task for us and completely transformed the way we work. It's impossible to run our operation properly without this support.
"We can be far more calculated over which tank can be moved on to the next job as we have our drone view of the entire country, keeping our customers informed and satisfied on timings. The movement of tanks out of the geofenced areas triggers alerts for billing purposes so our remuneration timelines have improved. We can also see tracker battery levels against our tank acid levels due to the integration of data into one interface so we can better mobilize maintenance teams.
"What's more, given we're in seriously remote locations the signal strength of the GPS trackers is also phenomenal – we've never lost a signal on any tank, even when they've been under thick snow in North Dakota. We've always had a real-time location ping on the asset management platform, which is just hugely reassuring for a business like ours.
"Teletrac Navman's mobile app has also been a welcome addition. I can still perform all my roles and responsibilities even when I'm not sat behind the screen – I can coordinate jobs, instruct suppliers, and log the new customer geofences quickly and easily.
"The impact on my own personal wellbeing can't be ignored either – stress levels are down; I feel more empowered and feel like I'm delivering my role to the best of my abilities. Customers are happy, deliveries and maintenance are coordinated on time. And like I said, knowing I can still orchestrate things even when I'm not in the office via the app just takes the weight of the operation off your shoulders due to the ease of management. We honestly haven't looked back."