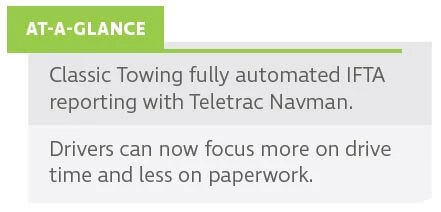 "As a business owner, I didn't have time to keep up with IFTA reporting every day. Now I just press a button and it's done. I went from hours and hours to only a few minutes of reporting."
- George Garbis, President
About Classic Towing
Classic Towing provides damage-free towing service, collision recovery, winch-outs, and roadside assistance 24 hours-a-day, 7 days-a-week in Plainfield, IL and all throughout the Greater Chicago area.

CHALLENGE: Time-intensive IFTA reporting
Classic Towing has a fleet of 10 tow trucks that provide 24-hour towing and roadside assistance. As a business owner, George Garbis, President of Classic Towing, didn't have time to keep up with IFTA reporting each day. Every quarter, he would spend nearly 10 hours sorting through fuel tickets, matching them to trips recorded in paper logs and manually entering data to meet the midnight deadline on his IFTA report. There were also missing logs and inaccuracies, as getting drivers to keep up with their logbooks, especially as they crossed state lines, was a pain point for Classic Towing.
A time-intensive and expensive IFTA audit using paper logs and receipts was the final straw. George knew he needed to find a new fleet tracking solution – one with both GPS tracking and automated fuel tax reporting.
SOLUTION: Adopting Teletrac Navman DIRECTOR
Classic Towing adopted the Teletrac Navman DIRECTOR fleet management solution, which Teletrac Navman installed in all 10 trucks within two hours, at no added cost. DIRECTOR tracks Classic Towing's vehicle travel and, through an integration, automatically uploads trip data into IFTA report templates. Drivers no longer have to log trips manually on paper. Trips and distance records are tracked automatically, with mileage broken done by state, which is key as Classic Towing also operates in four surrounding states.
With data synchronized, there are no more data entry mistakes or missing trips. It also means Classic Towing has all its historic data stored digitally, capturing routes traveled, jurisdictional miles, trip dates and a viewable trip sheet with a map.
Results
Since implementing Teletrac Navman, Classic Towing has:
Increased drive time and reduced paperwork
100% by-the-minute visibility of its 10 tow trucks
Readied itself for any future IFTA audits, with digital records of all trips
Realized an instant savings of $2,000, as there was no extra charge for GPS tracking devices while most vendors charge upwards of $200 per unit
Learn how you can achieve the same results. Check out our Fleet Management Solutions.
Explore Our Platform