Increase Profitability
Build a better financial future with your fleet
With a comprehensive fleet management platform, managing a fleet's finances becomes a seamless task. Teletrac Navman DIRECTOR provides insight on fleet trends, fuel costs, expensive audits, and more, giving your business the information and tools it needs to make sound financial decisions. With this data, businesses can determine the monetary impact of driver behavior, vehicle-to-job assignments and routing decisions.
Build Your Solution
Explore Our Platform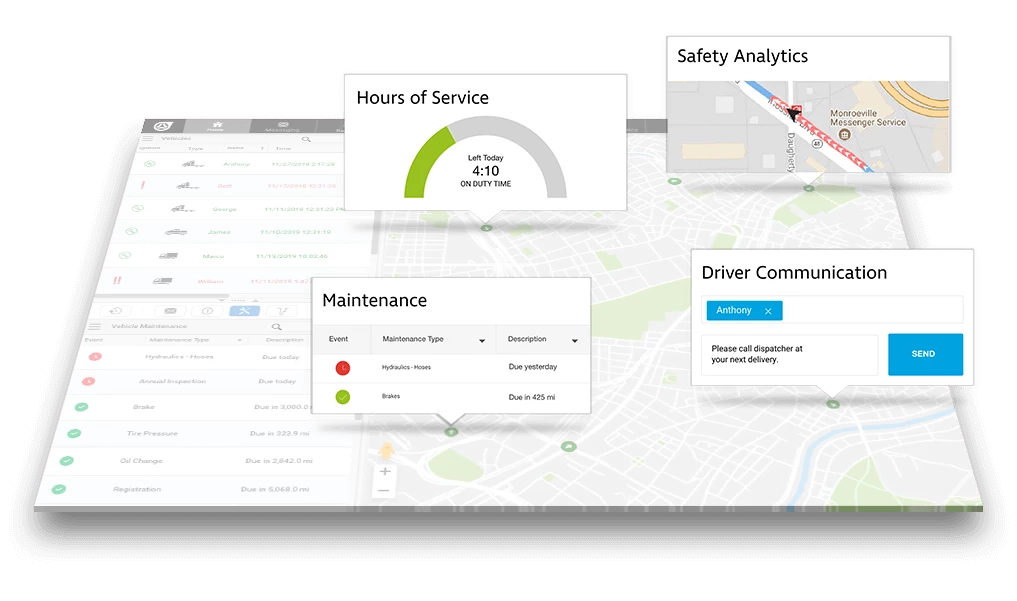 Fleet Productivity
How can I complete more jobs in one day?
With DIRECTOR, businesses can access a real-time view into their vehicles 24 hours a day, seven days a week. Routing tools allow dispatchers to easily send destinations straight to drivers' in-vehicle tablets. DIRECTOR also provides live traffic updates to ensure drivers are sent the most efficient routes possible.
DIRECTOR also provides a Find Nearest feature, which locates the drivers closest to a provided address, geofence, or other driver. This process allows fleets to complete jobs quickly and with a minimum spend of resources. Geofences within DIRECTOR also help boost profitability by marking the most critical areas for the business. Managers can monitor the time spent within these boundaries to determine if drivers are giving attention to the right jobs.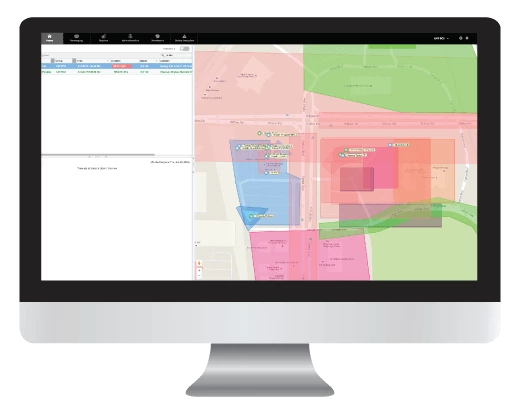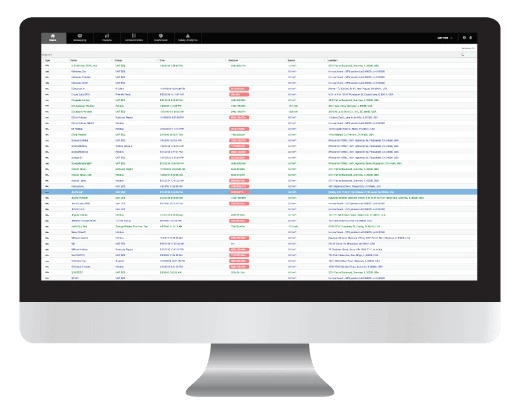 Cut 

Downtime
How can I reduce travel time between job sites?
All of a company's assets are ready to be managed in a single window in DIRECTOR. With the interactive user interface, users can perform quick search and filtering capabilities to quickly identify current statuses, available hours, and location of assets to ensure resources are being allocated in the field efficiently. A user can also identify and dispatch the closest available field technician to a service call in order to optimize routing and decrease stops.
DIRECTOR's planned vs. actual reports show the difference between how a job was scheduled and how a job actually played out. The reports help dispatchers identify inefficiencies plaguing the fleet and adjust routes and assignments accordingly.
Fuel Savings
How can I reduce fuel costs?
DIRECTOR provides comprehensive reports that gauge how much fuel is burned per vehicle to help businesses save on unnecessary expenses. The idle time report gives users an in-depth view of all idling per vehicle by location.
For a deeper view, DIRECTOR collects travel distance, average speed and fuel used within a selected date range for a drill-down approach into a specific vehicle's inefficiencies. Users can also receive alerts of unsafe driving habits per driver, including harsh acceleration, speeding, and harsh braking that indicate excessive fuel use. Drivers can further understand their own behavior patterns with the Event Viewer, which replays unsafe and inefficient events. More informed and better trained drivers can curb habits that burn excessive fuel.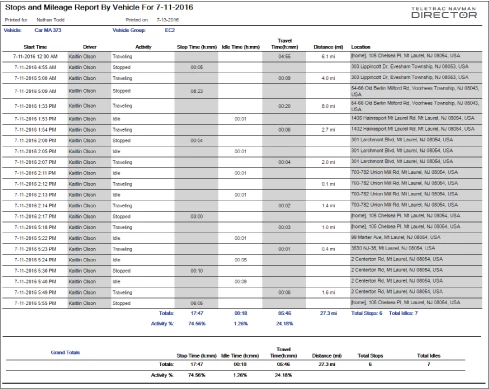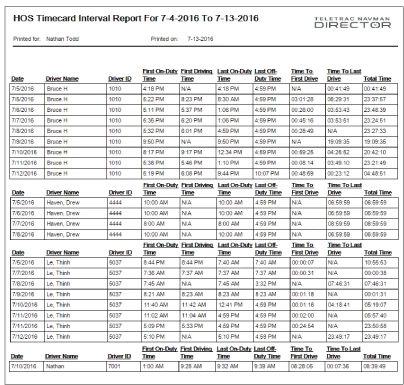 Time Management
How can I keep track of my workers' time?
DIRECTOR's suite of reports and compliance solution provide users with a full picture into safety and performance across the fleet. Status reporting allows fleet managers to view days and time when workers take lunch breaks, are on duty, and log off for the day. These reports can be run on an individual driver or fleet-wide basis.
Business and private mileage tracking allow users to distinguish when vehicles are utilized for business purposes or private use. Vehicle usage reports monitor asset utilization by time on job site for accurate daily measurements. For federal compliance, DIRECTOR's HOS solution proactively manages real-time driver hours to ensure accurate and automatic reporting. These tools shed light on how drivers use the company's time, both on and off the job.
Fleet Utilization
Am I utilizing my fleets full capacity?
DIRECTOR's usage reports detail how long each vehicle is used, where it goes, and who drives it. Engine hours reports ensure accurate billing for usage time. ConEx and PTO reporting detail which parts of a vehicle are used when, helping determine if a vehicle is capable of doing more.
Managers can also see which vehicles are not being utilized, helping steer fleet-rightsizing discussions. Additionally, managers can correlate drivers' behavior to unproductive actions, such as idling and unsafe maneuvers. These actions can prevent a vehicle being used to its full potential. DIRECTOR provides the tools needed to steer driving coaching, helping eliminate inefficient habits and creating a stronger fleet overall.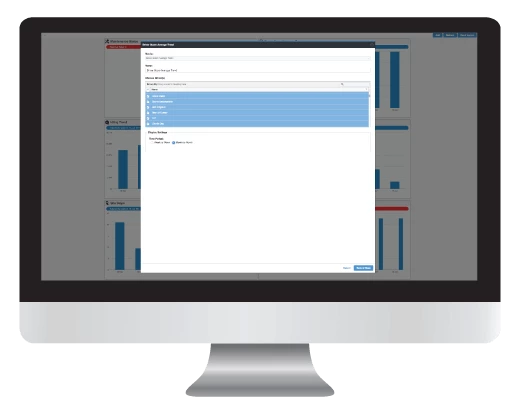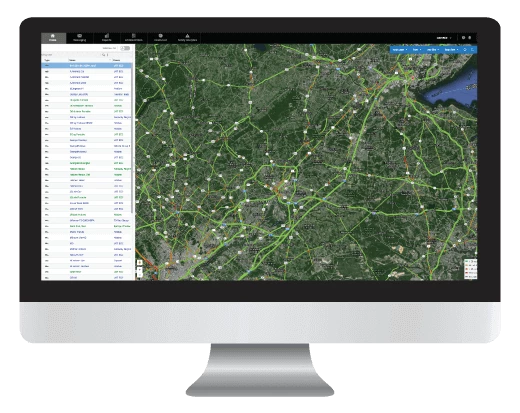 Compliance Simplified
How can I reduce the potential of expensive fines?
To combat potential audits and fines, DIRECTOR integrates with top workflow and logistics providers to connect vehicles and asset data across platforms. From Google Maps to ProMiles, DIRECTOR's alliances help fleets stay within government regulations.
The additional Hours of Service solution allows businesses to track driver working hours and ensure they are within regulations. IFTA reporting also gives business a seamless solution to combat time consuming tax paperwork. All of DIRECTOR's compliance features are completely paperless, with reports generated based on data gathered from the vehicles' engines. This massively reduces the amount of working hours needed to handle compliance matters, ensuring your focus stays on your business.