Key Takeaways:
Driver fatigue is the leading cause of heavy truck accidents, causing 13% of crashes every year. A driver fatigue management plan is critical to decreasing accidents. A comprehensive plan will also address federal and local drive- and rest-time regulations. The right technology can help carriers track driver hours and comply with federal and local laws regarding driving time and rest breaks.
---
What is driver fatigue management?
Fatigue is a huge problem for every driver on the road, but it is especially troublesome for the motor carrier industry. When drivers get tired, their attention dwindles, and reaction times slow. Falling asleep at the wheel causes more accidents than you might think.
The Federal Motor Carrier Safety Administration reports that fatigue is the most common cause of heavy vehicle accidents. Driver fatigue is not a country-specific problem, and several countries have opted to create similar solutions to this serious issue.
The leading causes of fatigue are simply not getting enough sleep, driving at night, and working or being awake for long stretches at a time. Medical conditions and medications can also cause issues with fatigue. Driver fatigue management addresses many of these issues, especially regarding the interplay between fatigue and hours of service.
Driver fatigue management is a policy that sets out how a company will address the dangers of driving while tired. It complies with local and federal laws regarding hours of service and sets out company policies that adhere to those laws or perhaps even takes additional safety precautions that go above and beyond the minimum legal requirements.
Driver fatigue management usually comes in the form of a driver fatigue management plan. This plan sets out company policies and regulations that each driver must follow.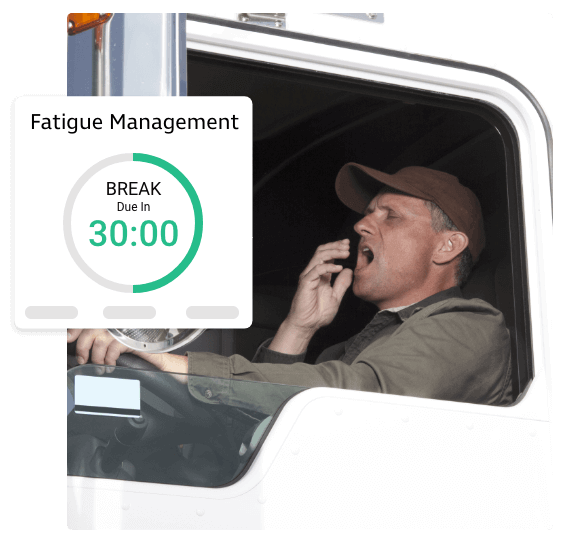 What is a driver fatigue management plan?
An employer creates a driver fatigue management plan in consultation with their drivers, dispatchers, and key parties. It provides how the risk of fatigue will be managed, specifically as they relate to long-haul driving, large truck driving, number of working hours, and driving at night. It will also often include alcohol and drug policies and procedures.
The standards vary slightly based on where the employer operates, but in addition to ensuring hours of service regulations are adhered to, businesses in the US should also consider including the items below in their driver fatigue plan:
Trip scheduling, including accounting for the actual amount of time it takes to travel from one place to another with adequate rest break
Rest period required to recover from the fatigue effects of work
Methods for addressing whether drivers are suitable to drive
System for monitoring health and safety
Procedures for reporting hazards and incidents
Training and information provided to drivers regarding fatigue
Loading and unloading schedules
A fatigue management plan should help close the gap between safety concerns and operational needs. When used correctly, a fatigue management plan can help reduce accidents and improve the overall function of a carrier's company.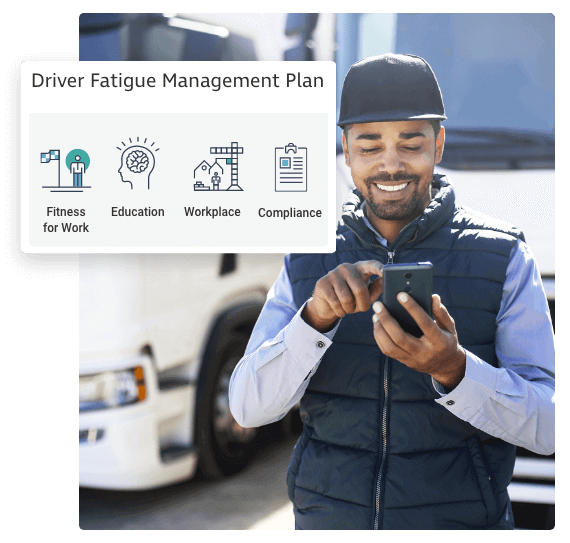 Why is managing driver fatigue so important?
Driver fatigue is the leading cause of accidents in heavy trucks. It impacts driver safety and the safety of anyone else on the road. According to the National Safety Council, about 100,000 police-reported drowsy-driving crashes in the United States every year. About 800 accidents result in fatalities, and 50,000 crashes result in injuries. A study in New South Wales indicated that driver fatigue was responsible for 18% of all fatal accidents between 2012 and 2016.
According to one study, reaction times decrease nearly 17% when a driver is fatigued. A study done by the Centre for Sleep Research in South Australia found that driving for 17 hours without sleep essentially puts drivers at the same risk as if their blood alcohol level was 0.05, and driving for 24 hours without sleep was essentially the same as having a blood alcohol level of 0.10.
From an employer's perspective, managing driver fatigue correctly will often lead to safer drivers, fewer accidents, more efficient load delivery, fewer injury claims, and happier customers.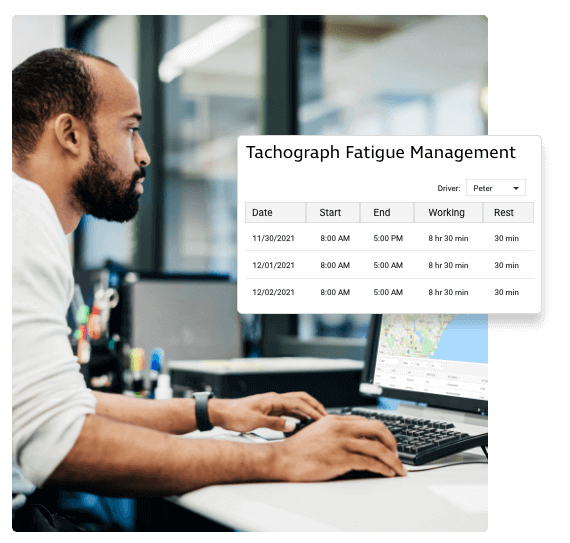 What driver fatigue regulations are in place?
The Federal Motor Carrier Safety Administration requires regular breaks and rest periods, including the following.
Driving no more than 14 hours in a row
Only drive 11 hours in a row after taking ten consecutive hours off
Cannot drive more than 60 hours in one week or more than 70 hours in eight days
Take a 30-minute break after every eight hours of driving
Electronic Logging Devices (ELDs) are also required to track the service hours of drivers. ELDs use GPS data to track driving time and rest breaks. ELD's became mandated in 2019; employers are not allowed to keep paper time records. 
The ELD law applies to most motor carriers and drivers who are currently required to maintain records of duty status (RODS). The rule applies to commercial buses as well as trucks, and to Canada- and Mexico-domiciled drivers.
Individual states might have regulations you need to be aware of as well.
What technology is available to help with driver fatigue management?
ELDs are legally required for motor carriers in the United States that are required to maintain records of duty status (RODS). These devices improve driver fatigue by helping to ensure motor carriers remain compliant with all state and federal laws.  This is due to real-time visibility of driver hour data, insight for job planning and automated driver notifications for upcoming rest breaks.
Even if technology is not required, carriers may want to implement it as a means to better track drivers and shipments. The right technology can assist with data visibility, management, and planning. And when you want to take a step beyond these basic measures and take proactive steps to identify fatigue and mitigate risk, dash cams are the next logical step.
In fact, some internal dash cams use smart technology to pick up on signals of a drowsy driver, such as frequent yawning or distraction. They can then pass along an alert to the driver or the driver's dispatcher that a break is necessary.
To learn about technologies available to carriers to help better track drivers and combat drowsy driving, contact Teletrac Navman today.