Weather telematics refers to a vehicle telematics solution that:
1. Receives weather reporting and forecasting data
2. Show vehicle drivers or fleet managers current or changing weather
3. See planned and updated routing based on weather conditions 
 Weather Telematics Live Demo
Weather telematics allows vehicles to anticipate or avoid adverse conditions, changing routes or modifying schedules and eliminate delays and disruptions.
Bad weather can impose a substantial penalty during over-the-road trips. A 2017 Teletrac Navman survey indicates that for truckers the most serious physical obstacles are traffic congestion and decaying infrastructure, but the weather is also a major factor in causing delays and disruption.
The problem is getting worse. Storms and adverse weather events are on the rise; 2017 was the most economically disruptive hurricane season in US history and according to forecasts, 2018 is on track to be another exceptional period. Experts predict 14 hurricanes and named storms in the Atlantic region alone for this year
Weather risks in transportation
That's the big picture, but how much do these conditions affect trucking operations? In 2016 industry publication FleetOwner provided some statistics that put the matter in perspective:
In lost time, weather-related traffic congestion in metropolitan areas costs trucking companies an estimated 32.6 billion vehicle hours per year.
In additional expense, delays caused by bad weather penalize truckers by as much as $3.5 billion, year to year.
Economic considerations are one issue; safety is another. American Trucker noted that on an annual basis, bad weather is associated with:
An average of 467 fatalities related to icy roads
About 23 percent of vehicle crashes due to inclement weather conditions
How telematics can help
Weather-related telematics data can help drivers and fleet managers reduce both risk and cost, in several ways.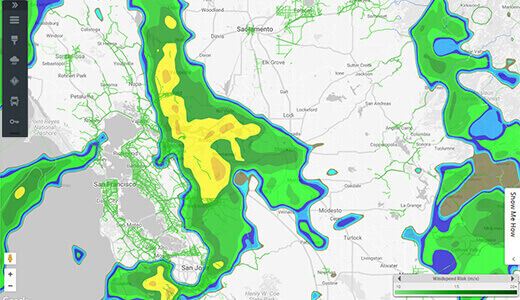 Improve routing
Telematics information that shows the road ahead and the weather on this route – both the current conditions and an approaching weather front – allows drivers or dispatchers to select an alternate course that avoids potential delays and unsafe driving conditions.
That includes physical routing, and changes in scheduling if exceptionally dangerous weather dictates an interruption in driving to wait until a storm has passed.
Protecting assets
Very bad weather such as hurricanes, hailstorms or lightning strikes can cause destruction or extensive damage to vehicles. Avoiding these conditions or forewarning in time to seek shelter can help prevent the need for vehicle replacement or repairs, as well as the delay this would require.
Avoiding accidents
Even if roads are not closed, driving in severe weather increases the chance of vehicle accidents -- due to poor visibility, icy road surfaces or high winds. Using weather telematics to select an alternate route outside of the storm area can lower the odds of being involved in an accident.
What to look for in weather telematics
For ease of use, look for a weather telematics package that is integrated with the overall vehicle telematics solution. The best solution is one that converts weather data -- from sources such as the National Weather Service, using Doppler radar -- to a visual roadmap that can show users the conditions in real-time and in the near future, over the projected duration of the trip. Other features can include:
Scaling and selectivity: Allows the user to view weather conditions immediately ahead or at greater distances, for long-range planning.
Mapping and display options: A visual display that can be configured to show a variety of data -- temperature, wind speed, precipitation (rain, snow hail), icing conditions, visibility and more.
Real-time updates: automatic updating to keep the drivers and fleet managers apprised of the latest weather information.
Predictive intelligence: Predictive weather intelligence can provide data-based projections hours in advance, for route planning.
Driver alerts: Can monitor conditions for the driver or fleet manager and bring to their attention any changes that may affect vehicular travel.
Two-way communication: when combined with weather data, a two-way channel between driver and fleet manager or dispatcher provides the means to make continual adjustments to routing, optimizing efficiency on every trip.
Learn how telematics can help with real-time weather information»
Sources:
"14 Named Storms Predicted for 'Above Average' 2018 Atlantic Hurricane Season," Carrier Management, April 5, 2018.
"Mitigating the Weather's Impact on Trucking," FleetOwner, November 8, 2016.
"Winter Maintenance, Safety Tips for Truckers," American Trucker, December 3, 2015.
"Teletrac Navman Helps Fleet Drivers with Weather Telematics," RT Insights, April 24, 2018.