What is the Best Dash Cam for use in Trucks?
Fleet managers should take advantage of a new breed of dash cams designed for them as intelligent information sources. From high-quality video to driver behavior data collection, truck dash cams go far beyond the simple consumer units sold in Big Box stores.
Explore our Camera Solutions
Table of contents
The right dashboard camera will also work in tandem with your truck tracking system to allow monitoring and management of your drivers and fleet. Professional grade truck dash cams should include these key features:
360-degree (quad cam) coverage.
LTE connectivity for quick cloud storage.
Date and time stamps -- essential when used as evidence along with GPS location data.
High resolution and advance video processing for clear pictures, day and night.
Backup battery and secure data storage.
AI features and alerts based on in-cab and on-road video.
Telematics integration.
Sensors including GPS, accelerometer, and crash detection.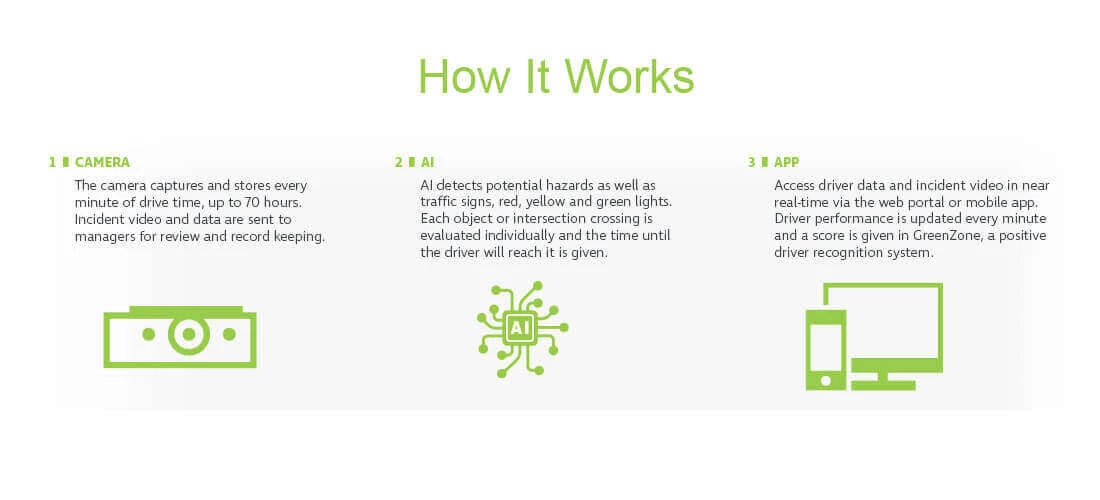 Making Truck Dash Cam Key Feature Comparisons
A standard challenge for technology buyers has always been figuring out which features are essential and which are nice-to-haves. The three most common questions we get asked are:
Should I buy a forward-facing, dual or 360-degree truck dash cam?
While forward-facing dash cams watch the road ahead, dual dash cams can watch the road ahead and the driver, and 360 degree cameras watch the road ahead, both sides of the vehicle and the driver.  When deciding which technology is right for your trucks it is important to think about why you are purchasing the technology. If you want to protect your business from false insurance claims then forward facing cameras will probably meet your requirements, but if you're looking to monitor driver behavior and implement training programs, dual facing cameras would provide the tools needed. Large vehicles that operate in areas with high traffic congestion have an increased need for 360-degree cameras in order to avoid the increased amount of traffic, pedestrians and cyclists.
Do I need an AI truck dash cam?
AI features are evolving and provide a depth of driver behavior data that isn't available through telematics systems, including information around distracted driving, seat belt violations, driver fatigue, and traffic light violations. AI camera software has the ability to continually learn and as more data is collected you get access to more insights, future proofing your investment. If one of your main goals is to coach drivers and improve safety AI is the way to go.
Do I need dash cam reporting capabilities?
If you're looking to maximize the value of your truck dash cams it is critical that the technology has a reporting engine that supports your needs. Whether you're looking to create scorecards to support driver coaching or build driver behavior league tables, having the ability to easily access the data from your dash cams is key. Advanced platforms have pre-configured driver scorecards and league tables that are automatically populated by the driving events recorded by the camera system.  
The Convenience, Reliability, and Quality of In-Cab Truck Dash Cams
Depending on your application, the top truck dash cams on your list may be the ones that survive a tough work environment or take extra measures to ensure data integrity. Some units still rely on vehicle power and restart when power is lost, but others now provide a backup battery to ensure that data is recorded even if power is lost during an accident.
Reliability
Perhaps the most essential feature for dashcams used in commercial trucking, upon which legal cases might rest and operations depend, is their durability, with rugged construction and even IP68 waterproof and dustproof cases.
Convenience
Commercial dash cam units place an emphasis on ease of use and low-distraction operation. Most commercial-grade devices include audible alerts, allowing drivers to keep their eyes on the road.
Video Quality
Commercial-grade truck dash cam units go the extra mile to ensure that the video they capture is high-quality whether you're driving on a bright, sunny day or in the dark of night. Many of the best units use sophisticated video processing electronics to keep the picture sharp even in low light, while others add LED-based lighting of the road ahead for excellent night recording.
Why Purchase a Commercial-Grade Truck Dash Cam
As dash cam units available to the consumer at Big Box stores and Amazon become ever more sophisticated, fleet managers may wonder: why not just use the same technology used by commuters and in family cars?
The answer is simple: top truck dash cam manufacturers know what the industry needs. With so many features available in truck dash cam equipment, it's likely that you will have to decide whether to purchase one that has the most desirable features, the best features for your truck or fleet's activities, or perhaps the one with the most potential for the future.
How do you decide? One big factor: artificial intelligence.
Eyes on the Road: AI Dash Cams and How they Work
Advanced artificial intelligence featured in the best truck dash cams process the video of the road ahead and footage of in-cab activity.
They help identify speed limit signs, road hazards, distracted driving, illegal U-turns, rolling stops and the truck's position relative to other vehicles and highway lane markers. Just as jet pilots receive altitude and other safety reminders, the Advanced Driver Assistance System (ADAS) features help avoid the need to record and resolve an en-route incident.
Increasingly, owners are selecting units which supply AI-based warnings and analysis and provide advanced telematics to keep your drivers in touch with the company.
Many of the latest features are software-based, so units that are upgradeable -- or upgrade themselves over the internet -- can be a better deal when it comes to long-term ROI.
Commercial truck dash cams are designed for physical ruggedness with reliable technology so you can depend on them.
No, devices that include LTE or satellite connectivity offer internet free video transfer. We highly recommend that you include these as part of your device criteria.
Concrete video evidence can save hundreds of thousands in insurance settlements in the case of an accident. Bottom-line benefits from daily use include safer driving, more efficient routing, decreased risk of general moving violations and improved training opportunities.