Data has become such a common term in business vocabulary. You almost can't talk about technology or decision-making today without data coming to mind. It applies in fleet management, too.
This is why we were excited to see DIRECTOR named one of just six winners in the 2017 Pentaho Excellence Awards, where it won in the Internet of Things category, for using data integration and analytics to deliver data-driven business outcomes to our customers.
GPS fleet tracking delivers rich insight on performance, safety, diagnostics and maintenance, but the data can be overwhelming, or lack context of the overall business.
This is why DIRECTOR earned the recognition it did – it processes and delivers data in an easy-to-read way, and pulls data from multiple sources and systems into a single view for a more holistic view of business operations.
Making data easy to process
Ever had a spreadsheet you couldn't understand? Unclear, dense data is no help to a business. If it's just a bunch of numbers, it's hard to act on.
DIRECTOR uses dashboards, color-coding, reports and alerts to help its users see patterns, outliers and issues (like a driver nearing Hours of Service) for quick decisions and long-term strategy.
It show patterns in vehicle tracking data for driver and vehicle level improvements like fuel management, compliance and route optimization. It also has more macro, fleet tracking data from all assets in a fleet for macro- decisions, like asset utilization and lease management. And it does all of this in very visual, easy-to-read visualizations and reports, like the one below: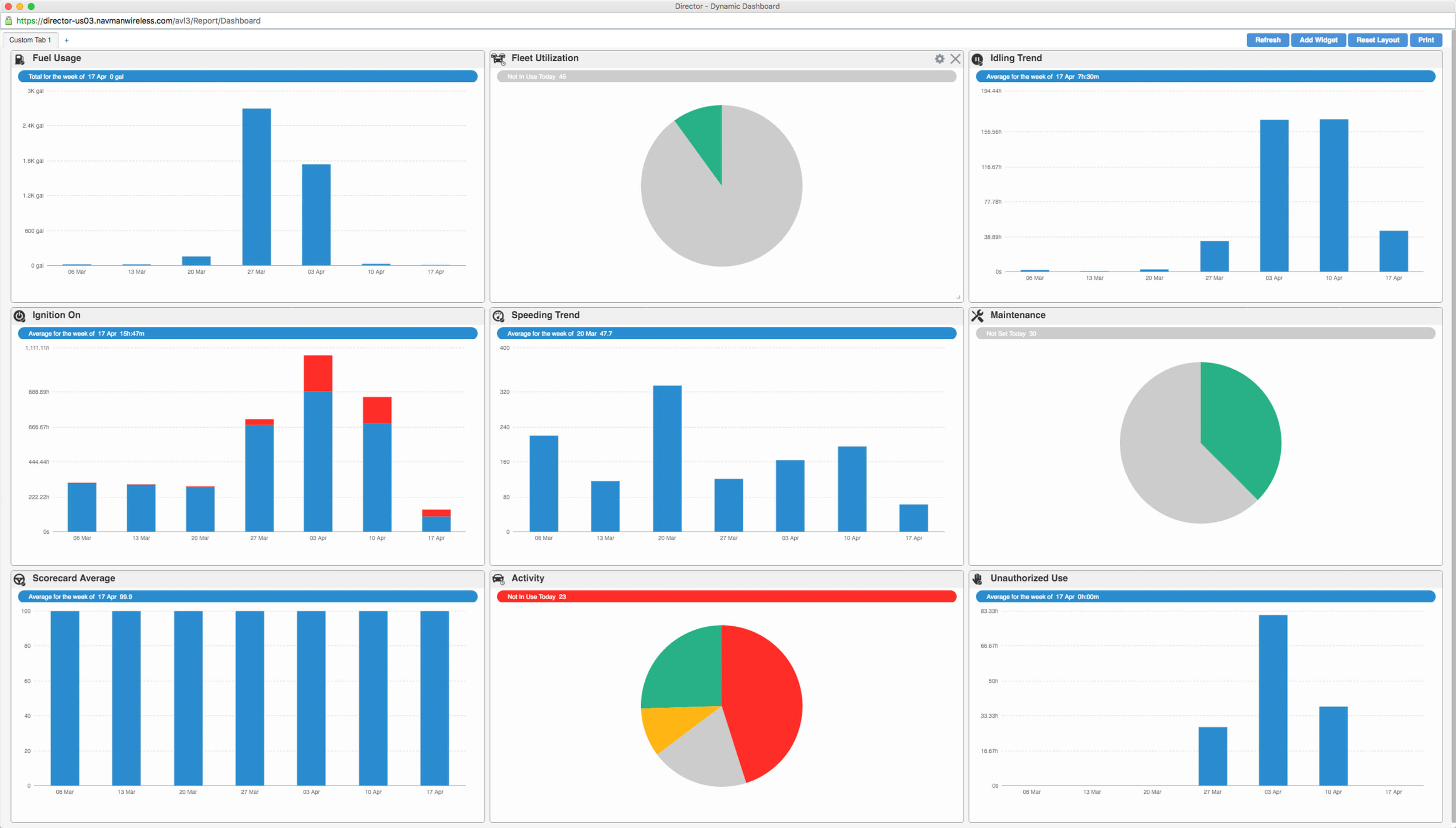 Connecting fleets, equipment, sites and workflows
Data integration is the other area Pentaho evaluated for its Excellence Awards, and it's what separates companies with good operations from those with great operations.
Fleet tracking, as a rule, should bring together data from all OEMS, job sites, etc. But it becomes more impactful when it's accessible within the rest of a company's business systems. DIRECTOR uses data integration technology to aggregate its own data and other back-office platforms – like Enterprise Resource Planning (ERP), billing, taxation and payroll) into one all-encompassing view.
Data enables your operators, workers, fleet managers, maintenance department and just about everyone to do their jobs better. The most advanced companies we work with are constantly using data to fuel better business decisions.
To learn more about how DIRECTOR delivers data-driven insights, visit www.teletracnavman.com/our-solutions/fleet-and-asset-management/actionable-data. Don't just take our word for it. Here's what Pentaho had to say: "Teletrac Navman is a telematics company that provides over 50,000 fleet management customers with key insights to support positive behavior changes, fleet efficiency improvements and margin expansion. Teletrac Navman's powerful user-friendly platform, DIRECTOR, factors in every facet of their customers' businesses. With Pentaho, Teletrac Navman provides their customers with self-service reporting tools, benchmarks data and makes data accessible from third-party software systems, giving them a complete 360-degree view of their business."