Technology is constantly changing the way businesses operate and for organizations that manage a fleet of vehicles or heavy equipment, fleet tracking systems have become essential. But often we see that solutions are not fully utilized and there is potential for businesses to get more ROI from their investment.
So how can you ensure that you're getting the most out of your fleet tracking system? What can you do to improve the efficiency of your commercial vehicle fleet? There are several important fleet tracking best practices you can follow.
Assess business requirements
The first step is to understand your business's requirements and KPIs. By having a clear understanding of the areas in your business that you want to improve and the processes and behaviors that you want to change you will be able to build a solution that is designed to meet these goals. Your fleet tracking vendor will work with you to identify the best technology that will help you achieve your objectives and will also advise on the key performance indicators that you will be able to measure. 
It's important to set proper goals and objectives during the implementation of the platform and choosing a vendor that not only offers the tools, technology, and training you need but can also support your business goals is key. Proper installation and training are integral to your long-term success. 
Understand the Capabilities of the Technology
Modern gps fleet tracking systems are robust.
From basic track and trace capabilities to advanced engine diagnostics and driver behavior information, fleet tracking systems offer users many features.
Add sensors and HD video via smart cameras equipped with advanced artificial intelligence (AI), and there's no end to a system's capabilities. But tapping into that power is where many businesses struggle. Understanding your business needs and aligning them with the systems capabilities is key. Most modern fleet management software can:
Track vehicle activity and key events (i.e. customer site visits)
Monitor driver behaviors, such as aggressive and distracted driving
Show incidents in real-time with second-by-second video replay
Provide in-the-moment driver coaching and alerts
Manage driver working hours and regulatory compliance
Track maintenance events and cost
Dispatch jobs, monitor progress and capture proof of delivery
Display real-time weather and traffic data to optimize routes
Monitor and analyze fuel usage
See the capabilities of our latest platform TN360. 
Digitize and Automate Your Workflow
A modern telematics system can digitize your entire workflow, removing paper-based and manual processes that bog down your entire business.
Manual processes are slow and often contain inaccuracies, while digitization helps increase the transparency and efficiency of your organization, driver behavior, and overall fleet health.
Pairing digital workflows with telematics tools can revolutionize your business and increase customer satisfaction.
Here's how digital workflows can increase efficiencies:
Users get instant access to key documents, including delivery details and safety instructions
Fleet Managers receive real-time job status and feedback processes updates
Businesses have access to a single solution for job assignments, status updates and proof of delivery.
Compliance managers can monitor hours of service and load visibility with real-time updates
When you can effectively digitize the workflow process, you streamline your entire management system.
Here Andrew Rossington, Chief Product Officer, talks about the benefits of automated workflow:
Standardize Your Key Performance Indicators
To maximize your fleet tracking program, you have to set and understand your key performance indicators (KPIs). Depending on the industry that you operate in, your KPIs may differ. What is most important is that you standardize them across all of your drivers and departments. That way, you can readily respond to anything that goes wrong. Some of the KPIs that you may want to track include:
Number of speeding or other harsh driving incidents
Jobs complete in a given day
How much fuel each vehicle is using
Fleet-wide CO2 emissions
Time a vehicle is in operation or idle
Cost of vehicle maintenance
Each of these KPIs are going to provide you with a slightly different set of information. Focus on the data most important to your business. That way, you can implement your vehicle tracking system around it.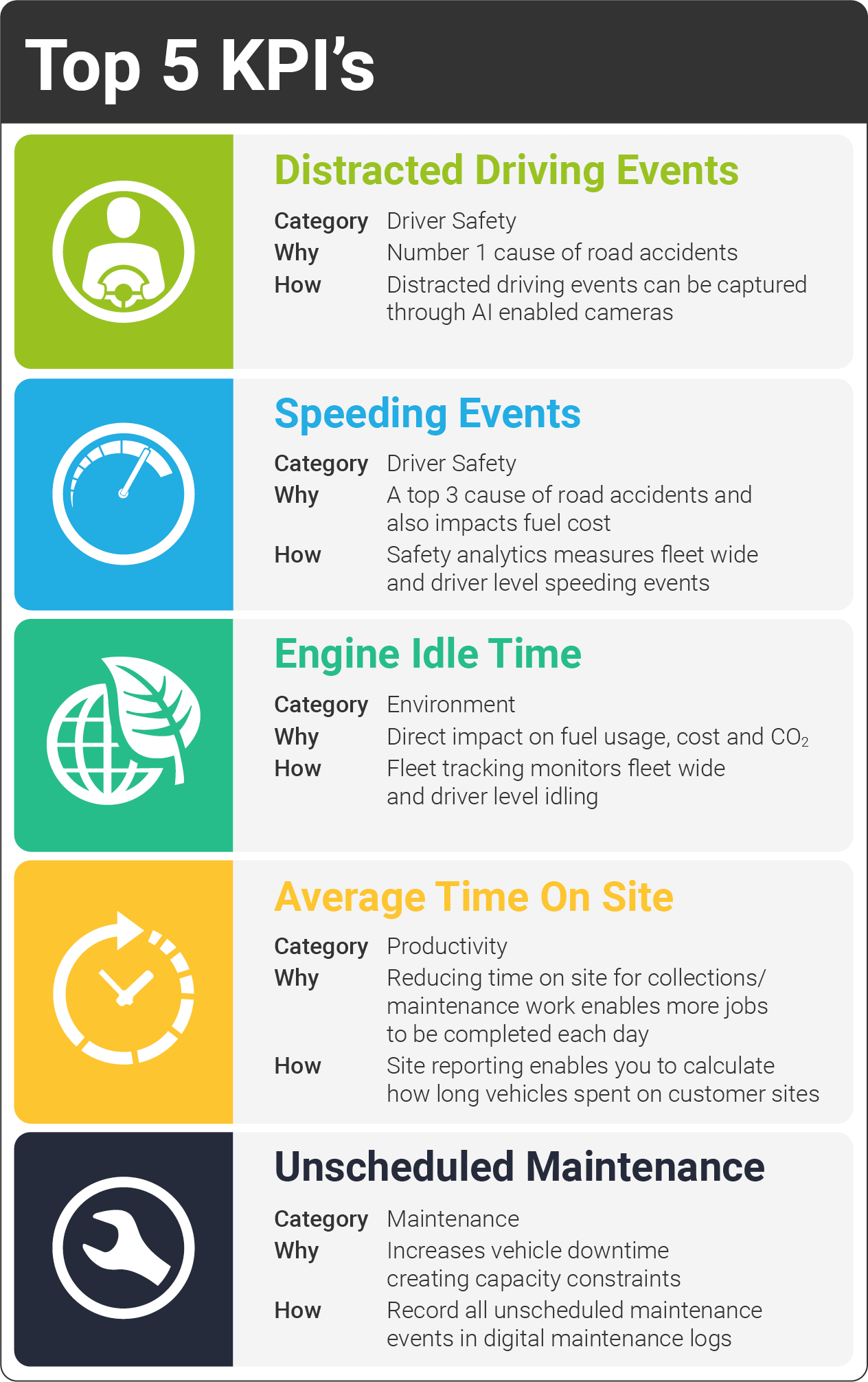 Implement Preventative Maintenance Programs
Always prioritize the preventative maintenance of your vehicle. This helps increase efficiency and get as many miles out of them as possible. With fleet management software, you can configure your preventative maintenance schedules to align with your business's goals.
Augment your data and improve the fleet management process by:
Using odometer readings to automate maintenance schedules
Monitor driver behavior and reduce excessive wear and tear
Use engine fault codes digital inspection reports to spot issues before they become a significant problem
When you can efficiently manage your preventative maintenance tasks, you can maximize the amount of time your vehicles spend on the road and minimize the amount of money you spend on repairs.
Consider Professional Services
Many fleet tracking vendors have professional services teams that will work with you to set KPI's and manage platform onboarding. Customers who use these services see a quicker return on there investment, but if you don't utilize a professional services team, we would always recommend that you find the time to go through platform training and utilize your customer success team.