When properly utilized, a GPS fleet tracking system can provide valuable insight to reduce fuel costs, increase driver safety, make routing and customer requested changes almost instantly, schedule maintenance, increase productivity and reduce costs.
Explore Our Platform
Brief History of GPS Fleet Tracking
GPS fleet tracking has been enabling fleet managers to monitor assets, personnel, and equipment of all types since the early 1980s. Advancements in both desktop computer systems and web-based technology in recent decades have made using GPS more affordable and enabled the telematics industry to grow into what it is today.
Being able to track and locate an asset in real-time provides a stream of useful data in many different areas including vehicle usage, reducing fuel costs, determining time on site, predicting maintenance, and increasing productivity. It also benefits drivers by allowing them to transmit forms directly through their device saving time and produces more accurate reporting.
GPS is an essential element of fleet tracking and provides location data across a wide range of assets. The different ways this and other data captured in fleet tracking software is being utilized is discussed further in this article.
Fleet Visibility with GPS Fleet Tracking
Time Management
Commercial fleet operators can predict the time required for vehicles to make a delivery based on a real-time location provided by GPS fleet tracking, and more efficiently schedule routes. Based on accurate location tracking, more deliveries can be scheduled, more fuel-efficient routes can be planned, and delivery times can be estimated. GPS fleet tracking allows dispatchers and fleet managers to locate vehicles to answer customer requests of all types and provide exact delivery times, or reroute a vehicle based on its location.
Using GPS tracking gives fleet managers and dispatchers the ability to pinpoint vehicle locations allowing the entire fleet to be more flexible and efficient, saving both the fleet and the customer time. A vehicle can be located without the involvement of the driver just by glancing at a screen, which transfers over to more accurate pick-up and drop-off times to the customer.
Another advantage of locating vehicles using GPS is it allows dispatchers to be aware of fluctuating weather patterns as well as traffic issues and communicate route changes to drivers. Improving or effectively shortening route times increases efficiency and productivity.
Learn About Weather Telematics
Nearest Vehicle Search and Dispatch
GPS Fleet tracking allows dispatchers to instantly see vehicle locations all on one screen and use that information to determine the nearest vehicle to accommodate a last-minute customer request or to accept a new job altogether. Being able to make those quick determinations based on locations, a dispatcher will be able to save time, reduce fuel costs and make the fleet more efficient. Using our Custom Form Solution, fleet tracking software enables jobs to be dispatched digitally, including instructions, routing, and digital signature capture.
Site Entry Time and Time On Site
When a vehicle arrives at its destination to either make a delivery or to pick up a load, the time of entry and time spent on site can be monitored (using a geofence), to identify how long these interactions are taking. This can be beneficial to identify customer locations where delivery times are extended beyond expectation or service calls where the time on site has taken longer than planned
Vehicle Usage and Calendar Templates
Another tool to determine if an asset is being properly utilized is the calendar template which can allow a fleet manager to monitor the activity of a vehicle or a piece of equipment. Unauthorized vehicle or asset use can result in a great deal of loss in both fuel and increase vehicle usage time.
A valuable aspect of the calendar is to determine when a vehicle is going to be scheduled for maintenance based on the equipment manufacturer's recommended hours of operation intervals, or an OEM's recommendations based on mileage. Having a part of a fleet go down for unplanned maintenance results in a loss of both time and revenue, and conversely planning for maintenance can result in lower repair costs. An example calendar template from Teletrac Navman DIRECTOR is below.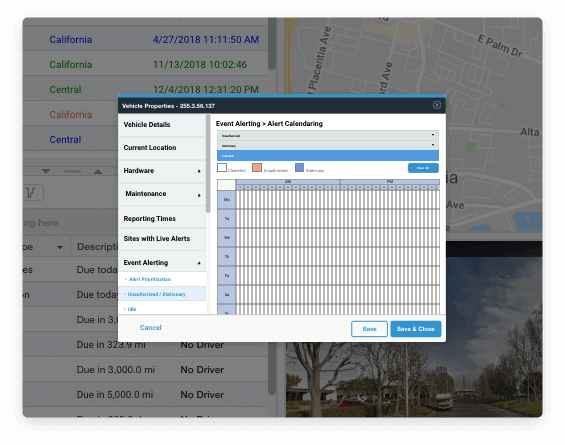 Vehicle Security
When a fleet is stationary for either the night or during the off-season, it can be vulnerable to threats of theft or unauthorized usage. GPS fleet tracking enables passive monitoring of a dormant fleet, alerting the monitoring staff to unauthorized movement. In many cases of theft, a fleet manger will be alerted within minutes and be able to contact the authorities with an accurate location of the vehicle.
Fuel Efficiency and Maintenance Cost
GPS fleet tracking is not only useful locate vehicles and assets, it can be used to reduce fuel costs as well. According to the Teletrac Navman 2019 U.S. Transportation Benchmark Report, 55 percent of companies that utilize a well-rounded telematics system (to manage their fleets) see on average an 11 percent reduction in fuel usage.
A Driver Vehicle Inspection Report (DVIR) is a mandated log from the Department of Transportation (DOT) recording pre-trip and post-trip inspections. With the ability to be sent digitally to fleet managers, DVIRs are a useful tool as they provide insights into how a vehicle is operating as well as safety issues. Using Teletrac Navman Fleet Management Software, a driver can submit these logs electronically, so they can focus on being more productive instead of being bogged down in paperwork. DVIRs help gain insight into how a vehicle is performing as they reduce unexpected repairs and can be set up with daily, weekly, monthly or yearly monitoring schedules. The Teletrac Navman post-trip inspection form can be seen below.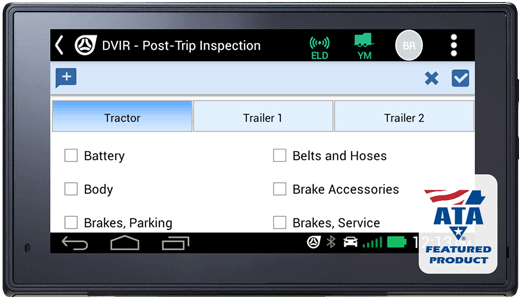 Improve Fleet Safety with GPS Fleet Tracking
Utilizing all the features of GPS tracking software can yield many improvements for a fleet overall, safety being a top priority to both vehicles and drivers. All of that can be measured through our Safety Analytics which enables business to measure driver safety and identify high risk drivers before an incident occurs. Our Driver Scorecards are a great tool to monitor driver behavior and implement corrective actions to prevent incidents from occurring.
Out on the road, drivers must remain diligent to keep themselves and other drivers safe, but accidents do happen. Teletrac Navman offers an extra level of safety with dashcams that record both driver responses and road conditions to provide evidence into accidents between fleet drivers and everyday motorists. The dashcams also record instances of harsh braking and cornering incidents and monitor acceleration (for fuel efficiency). An example driver scorecard can be seen below.
Learn more on how GPS fleet tracking can improve fleet safety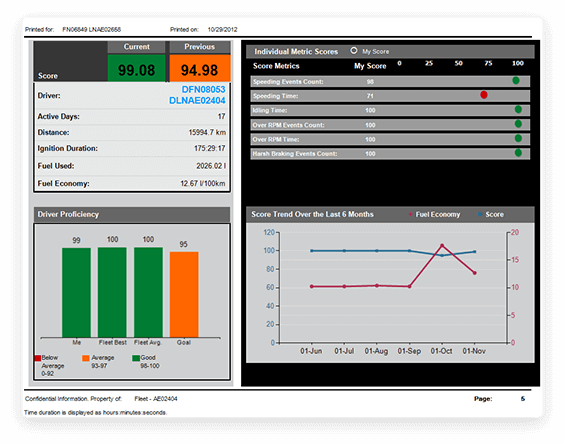 How GPS Fleet Tracking Helps with Job Management
Using GPS to manage your fleet has the added benefit of making job management more efficient and allows real-time insights. One of the first aspects explored from using GPS is the ability to track fleet vehicles and locate assets like equipment on a construction site, or to quickly locate empty trailers in a yard. Being able to precisely pinpoint current locations and monitor their activity enables businesses to maximize resource capacity.
Before the days of GPS, both drivers and fleet managers were at the mercy of traffic conditions as well as weather patterns and had to adjust delivery time requests from customers manually. With real-time info, a fleet manager can crosscheck a vehicle location with weather reports or sudden traffic conditions and reroute a delivery almost immediately to keep the delivery deadline. This can be done without alerting the customer or distracting the driver as new instructions can be sent digitally. All of these calculations can be done quickly to maintain proper workflow and to determine shorter routes for better fuel efficiency.
To make a driver's experience less taxing, fully utilizing all aspects of a GPS-enabled telematics system can reduce or effectively eliminate the forms they have to manually fill out. So instead of driving all day, then having to do hours of paperwork, a driver can submit DVIRs, Hours of Service (HOS) forms, and other reporting logs digitally. This reduces stress, allows for more accurate reporting, and eliminates the need to file or retain forms in the vehicle.
Fleet Insight
Driver Training
A properly utilized GPS fleet tracking system will give accurate reports of how fleet vehicles are being operated on many data points. Drivers can be monitored on speed management, instances of harsh braking, hard cornering, as well as acceleration habits. By closely monitoring these reports, fleets can determine fuel savings, reduce accidents, schedule maintenance based on mileage, and improve a driver's general usage of the vehicle.
Explore Our Soutions
Asset Monitoring with GPS Fleet Tracking
Although most of the focus of GPS and telematics services can be on vehicles in motion, stationary objects or large equipment can be tracked as well. All kinds of construction equipment including bulldozers, cranes, trailers, and generators can all be tracked and monitored. Monitoring assets is critical to making sure projects progress on schedule and that these valuable pieces of equipment are being utilized effectively. As an added level of monitoring and security, assets can be bound by a geofence to not leave a designated area (like a construction site or storage facility), and have an alert sent to a fleet manager when that does happen.
Learn about our asset monitoring software
Limitless Opportunity
The Internet of Things (IoT) has the potential to revolutionize how data is harnessed and interpreted, all the while offering vast improvements in efficiency, reliability, as well as customer service. The interconnected nature of how data is collected, sent and disseminated is beneficial for the telematics industry as it provides valuable interpretations of that data for drivers, fleet managers, business owners, and customers.
Receiving and interpreting current data is at the heart of what makes the services available from Teletrac Navman effective, but it goes beyond just knowing where a vehicle is at any given time. The information that a fleet manager receives from our devices and software can determine what weight capacity a vehicle is operating at, and if it can accept a new job, if time and route allows for it. Also, a fleet manager can identify what locations delay driver unloading times and by integrating that data, the customer can either be alerted to try and amend the delays in the future or be charged accordingly. By using real-time data and the interconnected nature of the IoT, business and fleets of all sorts can stay informed and make decisions about what areas can be improved.