Insurance companies make decisions on premium costs based on claim histories – the record of events that indicates whether a commercial vehicle operator is a good risk. The following are factors when determining an insurance premium for each driver: 1. Driver behavior 2. Previous accidents 3. Violations
Vehicle fleets that are able to identify unsafe driving and implement measures to reduce it can lower their insurance premiums as well as improve safety.
Risk reduction and cost-efficiency
Fleet managers and owners face the potential for tremendous losses after a commercial vehicle incident. The Federal Motor Carrier Safety Administration estimates the average cost per large truck crash at $91,000, crashes with injuries at approximately $200,000 and a crash with a fatality could reach $3.6 million. Any practical technology that can reduce the risk of this happening is worthwhile, which is why many businesses are turning to vehicle telematics, giving them access to a wealth of driver behavior data that can be used to identify high-risk actions and take preventative measures.
Driver scorecards based on the collection of telematics data provide fleet managers with the information they need to reward good performance, discover areas for improvement and develop training that supports safety. In addition to creating a safer working environment for drivers, taking these steps can also bring financial rewards including reduced insurance premiums, lower fuel spend and extended vehicle life.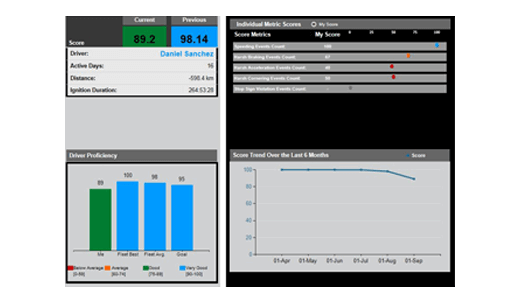 *Example of Teletrac Navman Driver Scorecard
Safety
According to the National Highway Traffic Safety Administration, approximately 93 percent of crashes are caused by human error. Technology that offers vehicle fleet managers and drivers the ability to observe, analyze and modify unsafe behavior and sharpen driving skills can address what this statistic reveals is the critical focus in ensuring vehicle and driver safety.
Investing in technology that helps fleet managers to measure and proactively reduce instances of dangerous behavior is a positive step that demonstrates a commitment to driver safety and the safety of all road users. In addition to reducing their risk profile, businesses that implement driver safety programs also see a range of other befits including reduced fuel spend, lower cost of vehicle ownership and increased productivity.
Many businesses are starting to use driver behavior data to develop safety league tables, driver feedback programs and personalized training initiatives, which are often looked on favorably by insurers when assessing on-road risk.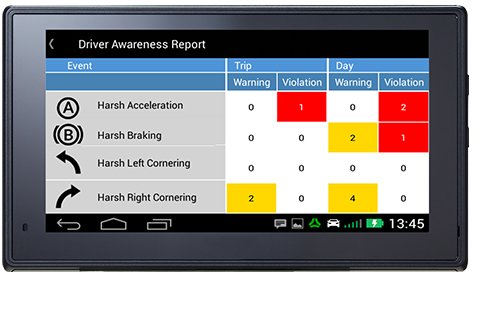 *Example of in-vehicle driver feedback
Security
In the United States, less than 60 percent of all stolen motor vehicles are successfully recovered. A technology that can improve on those odds is valuable – as recovering a stolen vehicle or preventing a vehicle theft can help protect a claims history from a costly red mark.
Improving the chances of vehicle recovery is a worthwhile goal in two ways: a better probability of reclaiming a stolen vehicle or other property, and an immediate benefit in the form of lower insurance expenses.

Protecting you from fault claims
Vehicle dashboard cameras provide video documentation of what happens when a motor vehicle is in use. Truck and fleet cameras can record driver performance, traffic conditions, aggressive driving or moving violations, or the cause behind a collision or other incident.
That video data is objective and following an accident, it can serve as reliable evidence in a dispute regarding which party was at fault. This makes it valuable in protecting fleets against expensive legal action – both in proving that negligence was not involved and in expediting a rapid settlement instead of prolonged, costly litigation.