Key Takeaway
For commercial drivers, the cab of their vehicle is their workplace. It's where they spend significant amounts of time, and it's where they need to be comfortable to do their job safely and effectively. For this reason, driver safety and well-being should be a top priority for both employers and employees who spend their workdays behind the wheel.
In this article we highlight five ways to make a vehicle an effective mobile office and how fleet management software can is improving driver safety and well-being.
Table of Contents
---
Five Tips to Improve Driver Safety and Well-Being
To create a better work environment for professional drivers, all aspects of the job must be considered. This includes changes to the workspace itself as well as behavioral changes on the part of the driver. Here are five areas to consider when creating a better workplace inside of your vehicle.
1. Maintain a Clean and Organized Cab
A clean and organized cab is essential for driver well-being. Dirt, debris, and clutter can cause stress and anxiety, which can affect a driver's ability to focus on the road. To keep their cab looking its best, drivers should make it a habit to regularly clear out trash and organize any belongings kept in the cabin. Operators should ensure that vehicles have suitable racking and storage, so equipment and materials don't find their way into the cab. Having equipment and materials in the cab can also create safety issues should an incident occur.
2. Improve Comfort and Ergonomics
Driver comfort and ergonomics are also important for driver health and wellness. Drivers should always ensure their seat is in an optimal position, their steering wheel is properly adjusted and a lumbar cushion or support is being used if needed. Additionally, mirrors should be adjusted correctly to reduce back and neck strain. Setting up a cab the right way can help reduce aches and pains throughout the many miles they put in during the day.
3. Use Technology to Improve Safety
Technology can be used to improve driver safety in the cab. One of the ways to accomplish this is using dash cams. With AI-powered real-time feedback and coaching, drivers can be alerted to unsafe driving habits as they occur and can receive individualized training based information gathers.
GPS vehicle tracking and driver status monitoring can also help with driver behavior monitoring. Unsafe actions like speeding, harsh braking, and mobile phone usage can be identified, and drivers can be coached about the risks of these actions. At the same time, driver scorecards can be used to identify and reward safe drivers.
4. Stay Connected and Engaged
Efficient communication, real-time updates and streamlined digital processes simplify administration, free up time for better customer service and minimize distraction. Drivers stay productive and safe with effective routing and dispatch, while real-time information helps plan routes and resolve issues promptly.
Automation of tasks like record-keeping and order processing also minimizes manual work, allowing drivers to focus on delivering a great customer experience. By leveraging digital technology, businesses optimize operations and allocate more resources to providing outstanding service
5. Be Ready for the Road
Driver safety and well-being starts with the individual behind the wheel. Drivers need to take care of themselves on the road. It's essential to eat healthy, stay hydrated and get enough rest. It's also important to take breaks and stretch to avoid fatigue and muscle strain.
Setting off in good time can also alleviate stress and reduce the risk of aggressive driving. A well-prepared driver is a safer driver.
How Telematics is Improving Driver Safety
Our TS23 Global Telematics Survey highlighted several key takeaways regarding telematics and driver safety. Most notably that driver safety is the number one benefit of using a telematics platform. Here are some of the other key findings of the survey.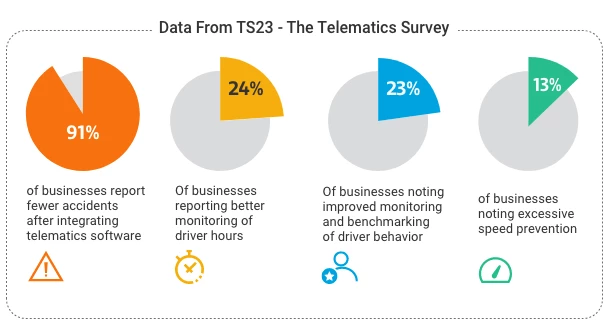 Key Commercial Driver Safety Metrics
Businesses that have successfully integrated fleet management software  have seen safer driving habits across the board. Some of the most notable benefits seen include:
24% of businesses reporting better monitoring of driver hours

23% of businesses noting improved monitoring and benchmarking of driver behavior

13% of businesses noting excessive speed prevention
Possibly the most significant metric of all is the reduced number of vehicle collisions. An impressive 91% of businesses report fewer accidents since integrating telematics into their business.
Benefits to Drivers
Safer driving habits aren't just good for a driver's health — it can be good for their wallets. Of the managers surveyed, 96% are rewarding drivers for better performance based on their driving habits. This is further supported by the fact that many businesses are offering better benefits and increased pay to address the global driver shortage.
Additional Benefits of Fleet Management Software
From reduced fuel costs  to less vehicle downtime , there are many benefits of investing in a fleet management platform. With an AI-powered fleet management solution like TN360, your business can turn data into decisions for more efficient and effective fleet operations. With greater visibility into your fleet's data, you can gain a competitive advantage  in the market.
Build a Customized Fleet Management Solution for Your Fleet with TN360
Teletrac Navman and the TN360 platform can empower you to make business decisions with confidence. No matter your industry, you can build a custom solution that's specific to your needs. Read our customer stories to learn more about the ways the TN360 platform can help your business succeed. You can also contact us with any questions you may have about fleet management software.