Key Takeaways
Fleet management software provides businesses with access to the right data in a format that is easy to understand. The cloud-based platform provides the information decision makers need for success, from location information and vehicle diagnostics to driver behavior and beyond. Modern fleet management software incorporates artificial intelligence and machine learning to quickly help businesses spot and solve anomalies. This article explores how an investment in fleet management software can reduce manager workload, decrease company costs, increase vehicle and equipment efficiency, and improve customer relationships.
---
Table of Contents
What is fleet management software and how does it work?
Fleet management software enables fleet managers to continually monitor their vehicles, equipment, and drivers from a single application. Examples of software capabilities include:
Locating specific vehicles
Monitoring driver behavior and measuring performance
Managing and reducing fuel costs
Scheduling vehicle/equipment maintenance
Managing jobs from assignment to completion
Simplifying compliance
The technology is powered by telematics devices that capture information about vehicle movement, driver behavior and operational activities. These devices transmit data from the vehicle to the cloud via cellular or satellite communication networks, and the data is then interpreted and visualized in the fleet management software.
The software provides instant access to information including vehicle location, utilization, compliance (ELD, IFTA, DVIR), maintenance and more on an easy-to-understand dashboard. Some systems also provide advanced insights into job status, driver behavior and route optimization.
A vital aspect of any fleet management software is providing actionable insights that help the business identify opportunities for improvement and take action. Teletrac Navman offers fleet management software that is powered by AI, enabling users to ask questions and get instant answers.
See the video below about our insights feature:
Why Do Businesses Invest in Fleet Management Software?
One of the biggest challenges for any business is controlling costs. For fleet managers, reducing spending means continually analyzing data and determining where to cut back. The more vehicles or pieces of equipment the company owns, the more challenging this becomes. Some of the main areas business look at for cost control are:
Fuel usage
Wages (including overtime)
Maintenance & repairs
Vehicle & equipment rental
Insurance
Fleet management software helps managers understand factors that impact costs and figure out how they can be reduced.
Driver safety and regulatory compliance are driving factors. Fleet management software helps ensure businesses stay compliant with Hour of Service (HOS), fuel tax, and other local, state, and national laws. It also provides insights into driver behavior which are often used to create personalized coaching programs and driver safety incentive schemes.
How Do Businesses Use Fleet Management Software?
Here are some common ways companies use this software to improve fleet management, driver safety and their bottom line:
Preventative maintenance scheduling to avoid unplanned downtime. Top-rated fleet management software obtains data by pulling it from the vehicle's OBD-II or other diagnostics port to provide visibility into the odometer, battery, engine, gas tank, and other components.
Monitoring driver behavior allows fleet managers to reward positive driving and measure driver speeding and unsafe driving events. Real-time and instructor-led coaching help to create a safer working environment for your drivers.
Fuel consumption analysis to determine patterns of inefficient fuel use by vehicle, driver, or route. Reducing engine idling and unauthorized vehicle use are also key areas where businesses reduce fuel costs.
Hours of Service (HOS) tracking to ensure a driver's continuous hours of driving stay within FMCSA guidelines.
Job Dispatch and management enable single jobs and run sheets to be assigned a tracked through to completion via connected applications.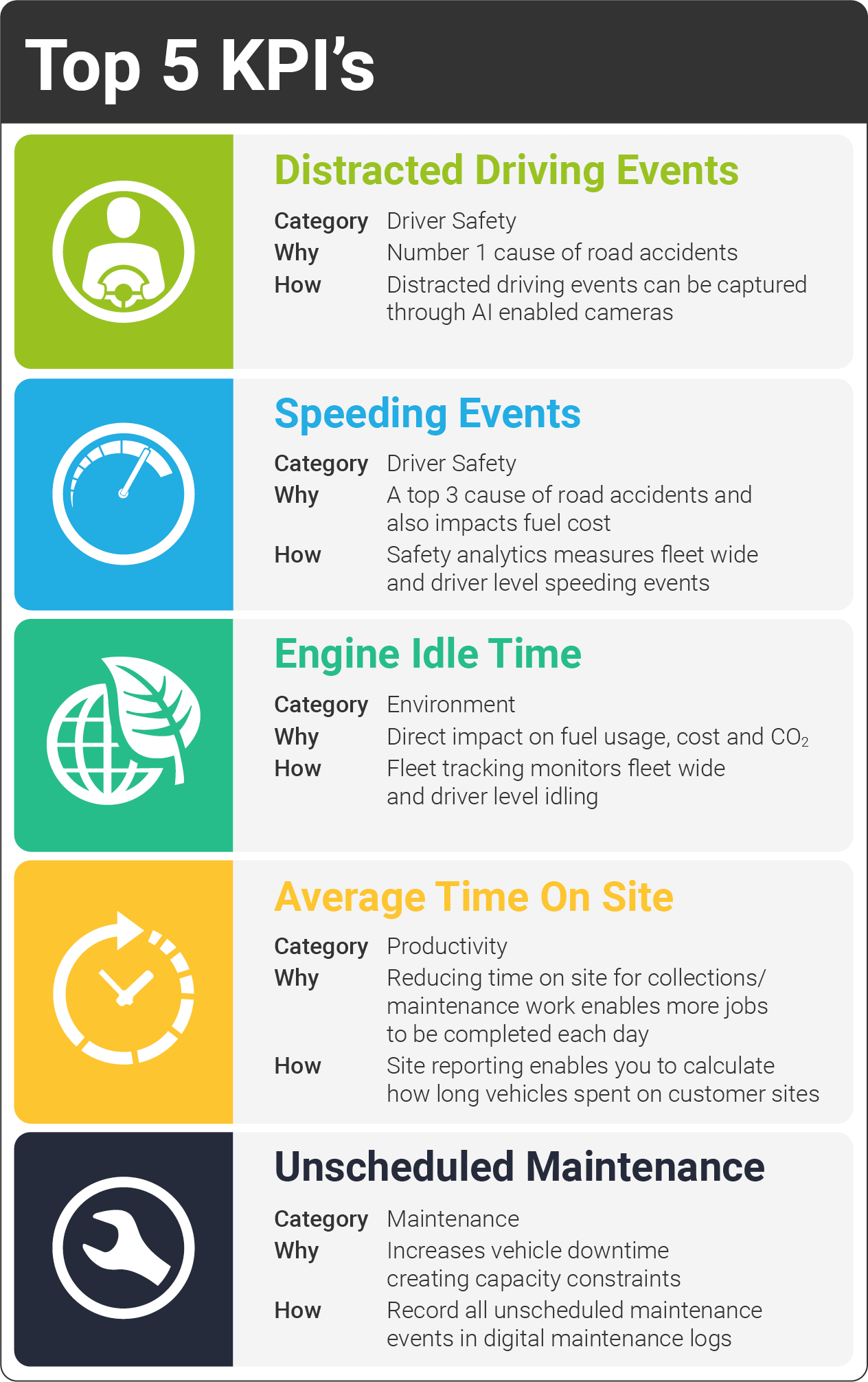 Who Uses Fleet Management Software?
Fleet management impacts a wide range of people across an organization and it is important that you can configure a fleet management solution that adds value to all members of your team. Here are some of the different use cases:
Fleet managers use the software to track vehicle and asset location and usage, which helps ensure vehicles and equipment are where they are supposed be and reduces unauthorized use.
Compliance teams use fleet management software to ensure fleets are meeting all local, state and federal operating requirements. The software also provide valuable insight that's helps business take a proactive approach to driver risk management.
Built-in job dispatch tools help dispatchers and operations teams send one-off jobs or daily run sheets and track progress through to completion. Dedicated communication platforms also help to keep everyone up to date with developments in real-time.
Maintenance professionals can schedule routine maintenance based on real-time odometer readings, and use digital inspection reports and diagnostics alerts to proactively plan maintenance around the business schedules.
Fleet tracking software helps safety managers create training and safety programs as well as rewards and recognition programs. Driver scorecards help ensure safety is always a top priority by measuring dangerous, distracted and fatigued driving.
Finance teams can tap into the power of telematics for proof of delivery, invoicing, time sheets, fuel tax calculations and other financial obligations.
Powerful dashboard provide a high-level view of the entire operation, which is perfect for business owners and executives. Platforms can provide access to key performance indicators so your leadership can team can see the improvements being made.
Evolution of Fleet Management
The capabilities of today's fleet management software would have been unheard of a generation ago. Advances in sensor technology, integrated cameras and driver applications have created limitless potential for businesses to capture data and learn about their fleet operation.
One of the biggest advances has been the development of AI cameras, which allows fleet management software to read and evaluate road hazards, speed-limit signs, tailgating and more. Driver-facing cameras can also be used to spot fatigue or distracted driving. This allows businesses to reduce incidents on the road, improve safety records and cut costs associated with fines, insurance, accidents.
There have also been significant developments in mobility solutions that connect teams through a range of applications, that enable instant and accurate information transfer.
Through the use of AI and machine learning, modern fleet management software systems have become advanced analytics platforms, providing real-time insights and helping businesses to understand the "why" behind critical data, turning data into decisions. With Insights, from TN360, fleet managers can get instant answers to their questions without sifting through endless reports and data points.
If you're thinking about switching fleet management software, or want to see what a feature-rich, AI-powered platform can do for your company, take the first step by requesting a demo from Teletrac Navman today.